Custom Golf Cart Wheels

Custom Golf Cart Accessories
Custom golf cart wheels can turn an ordinary golf cart into a one of a kind golf cart.  The size of your golf cart tire will determine the size of your golf cart wheel - unless of course you are getting new assembled golf cart tires and wheels.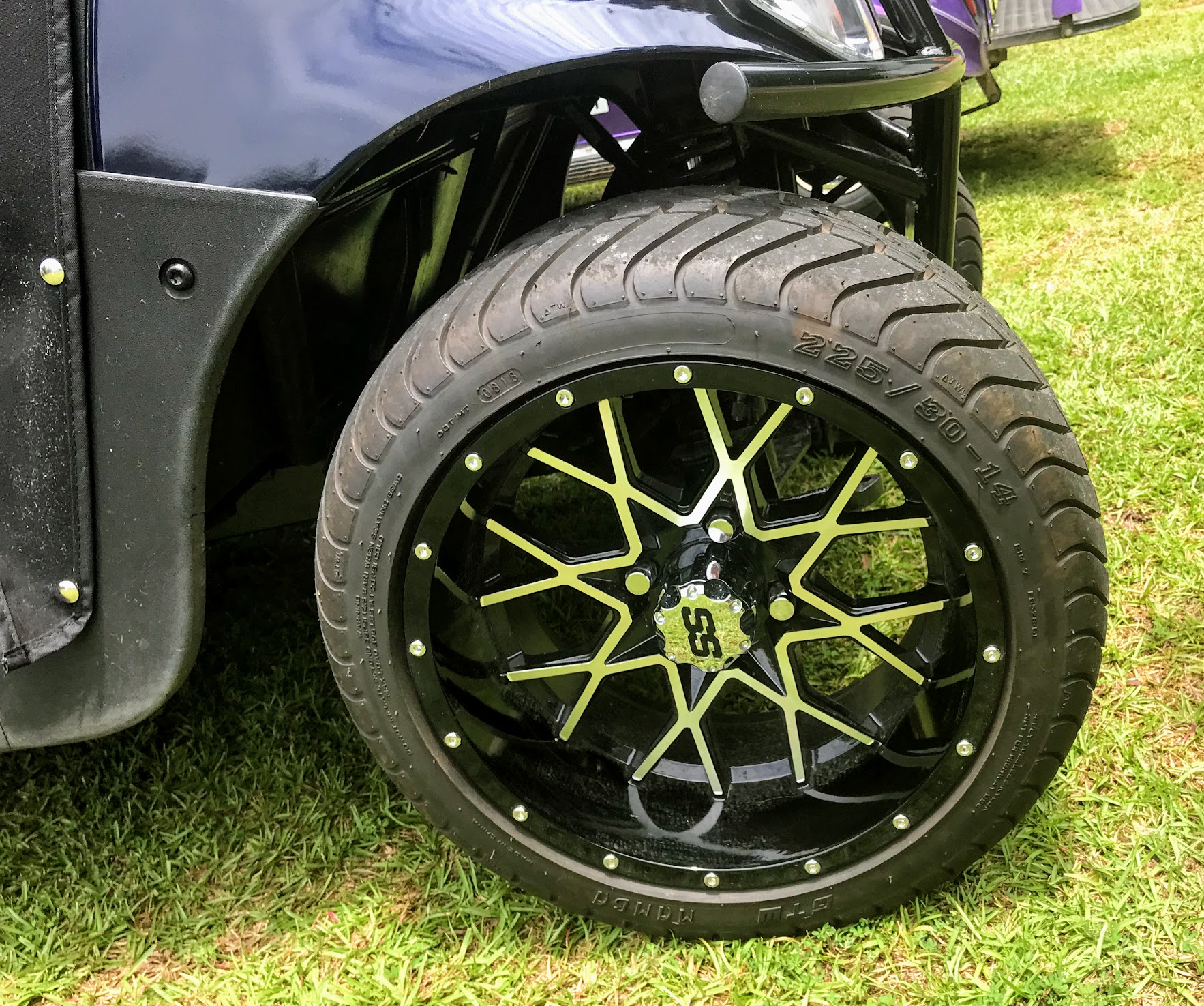 Look for the numbers on the sidewall of your tires. You will see something like this: 205/50-10. The 10 means it is a 10" tire.
Wheel sizes vary from 8" to 14."
You will find that 4 bolts is a standard golf cart wheel pattern. However, some carts will have 5 bolt holes. So be sure you know which one you need.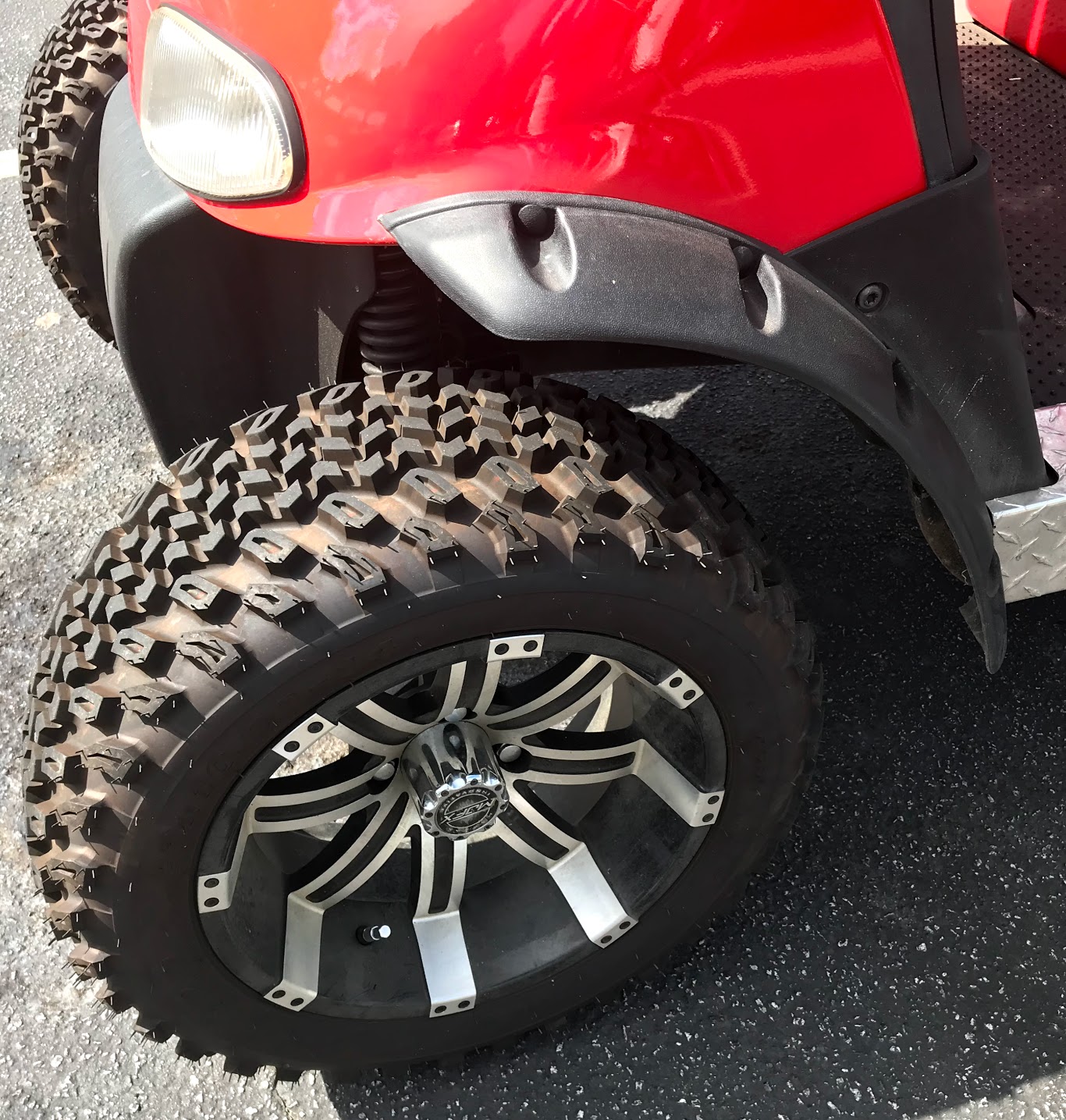 Custom golf cart rims or wheels are an easy way to customize your golf cart - now I didn't say inexpensive. The cost for a set of 4 aluminum golf cart wheels can range in price from $200-$1000. Of course you need to add new and matching lug nuts and a golf cart center cap.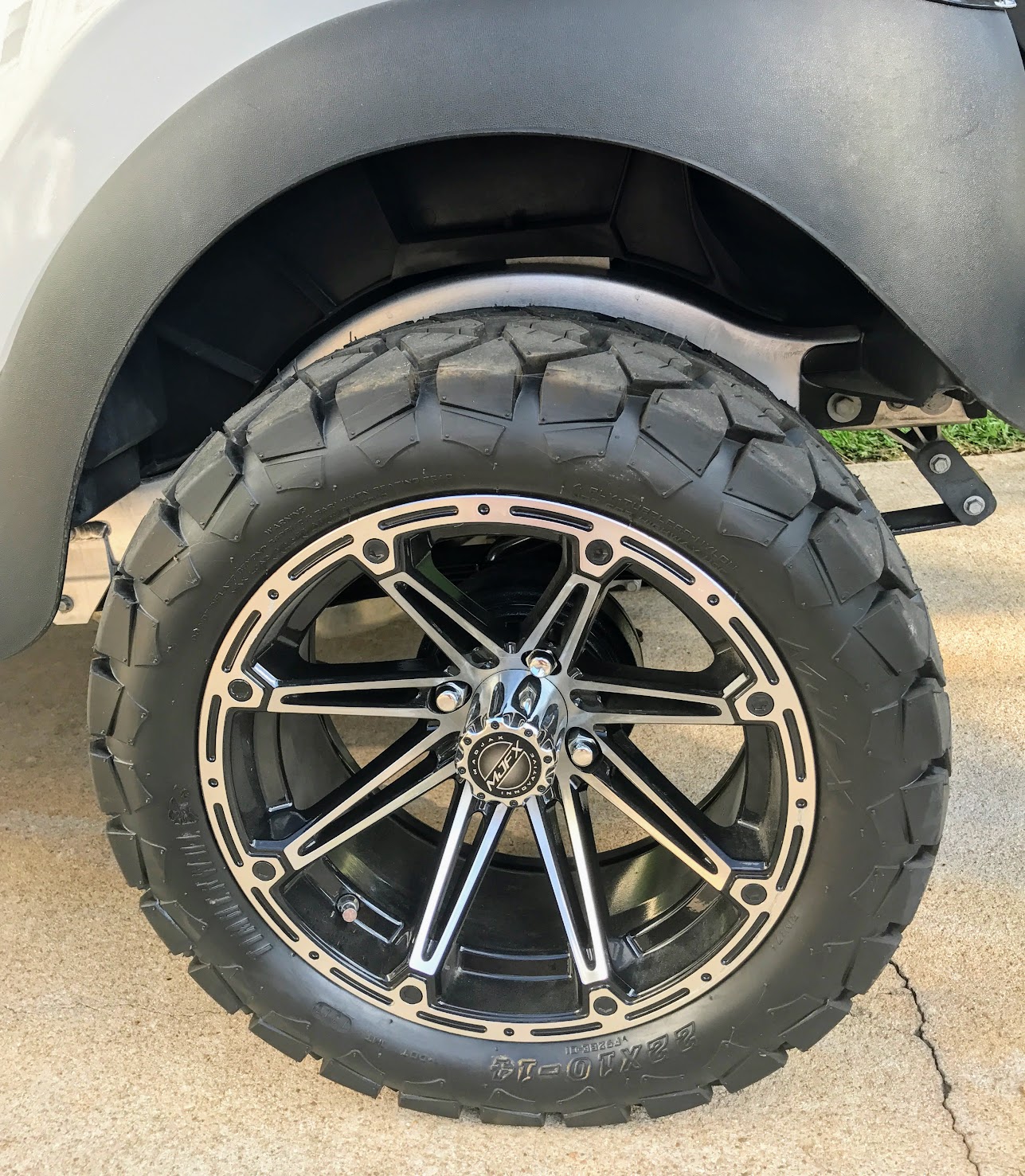 Most custom golf cart rims are made of aluminum, not steel - which means they won't rust. They are also available in different finishes - polished aluminum, chrome or matt black.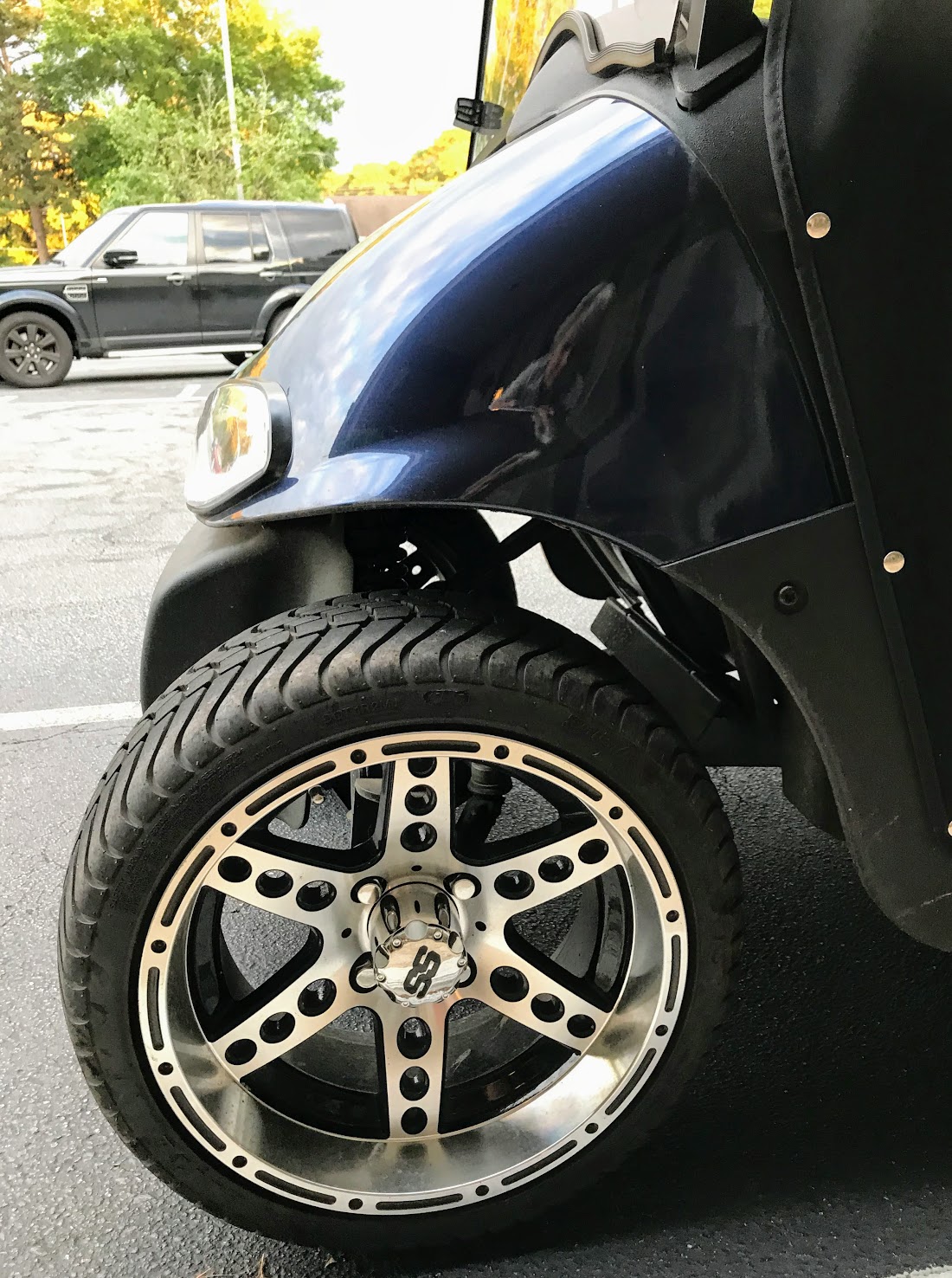 I decided on a chrome finish. The chrome plating gives a mirrored or shiny look that is hard, durable and easy to clean. A polished aluminum is machine finished and is not as shiny as a chrome plated wheel. Sometimes the polished aluminum wheels will have a protective clear coat applied to it. Deciding on the finish of your custom golf cart wheels really boils down to personal preference.
Look at the pictures and determine how many spokes do you want. Four? Six? Eight?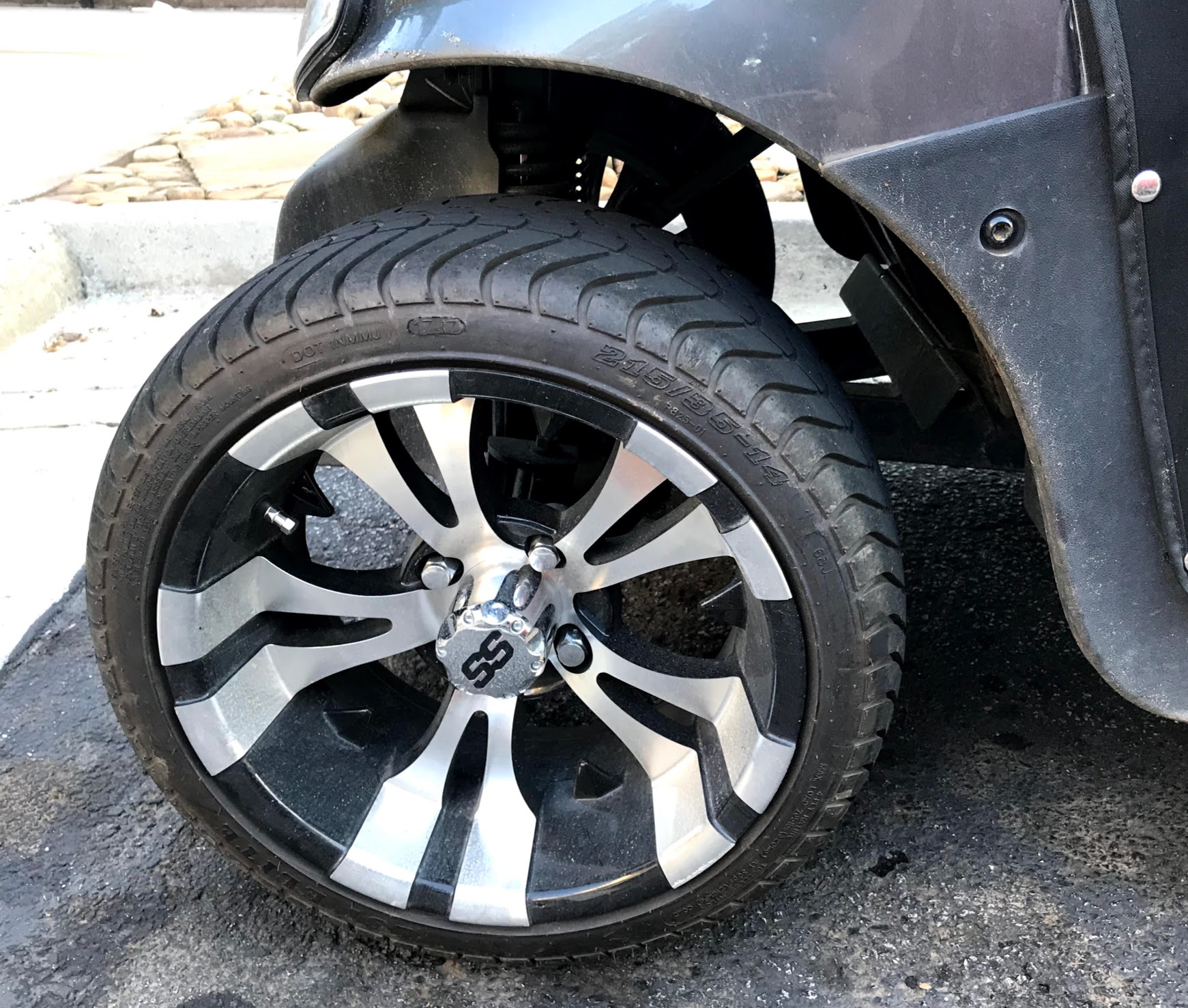 Some custom golf cart wheels have only 4 spokes that are thick and heavy looking while wheels like mine have lots of spokes - 14 to be exact. The hardest part will be deciding which ones you like best.

You can find a nice selection of custom golf cart wheels and tires as a set with significant savings from Amazon, usually with free shipping.

Golf Cart Wheels and Tires Combo Sets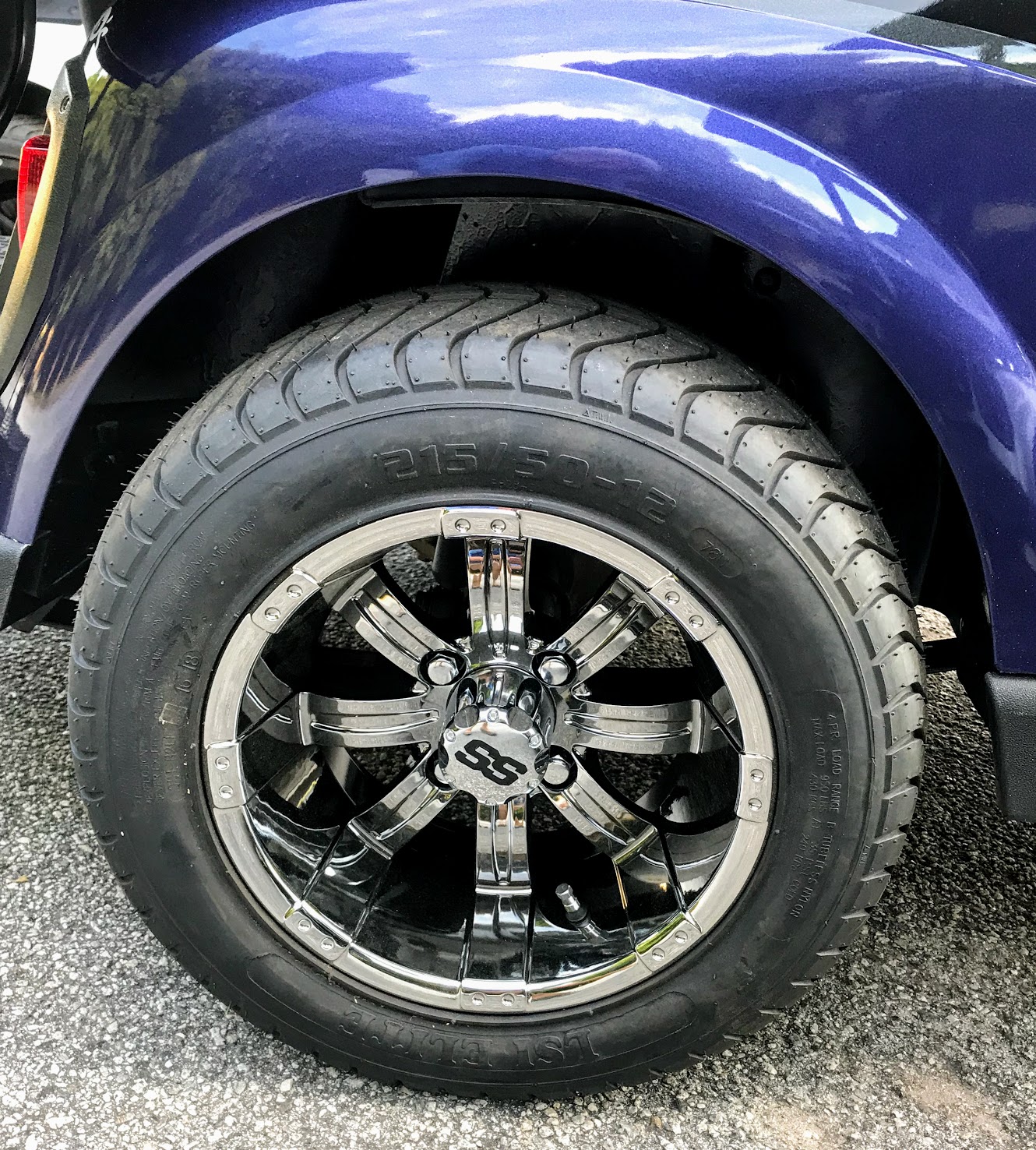 Includes: (4) Brand New 20x10-12 DOT All Terrain Tires, (4) 12"x7" TEMPEST Gunmetal Aluminum Wheels, (4) Chrome SS Center caps, (4) Sets of Chrome Lug Nuts
This wheel and tire combo measures 20 inches tall (from ground to top of tire)
NO LIFT KIT REQUIRED for most carts

DOT All Terrain tread that is great both on road and off
Come mounted and aired up to the proper pressure
12" TEMPEST Gunmetal Golf Cart Wheels and 20x10-12 DOT All Terrain Golf Cart Tires - Set of 4 - NO LIFT REQUIRED
Golf Cart Chrome Wheels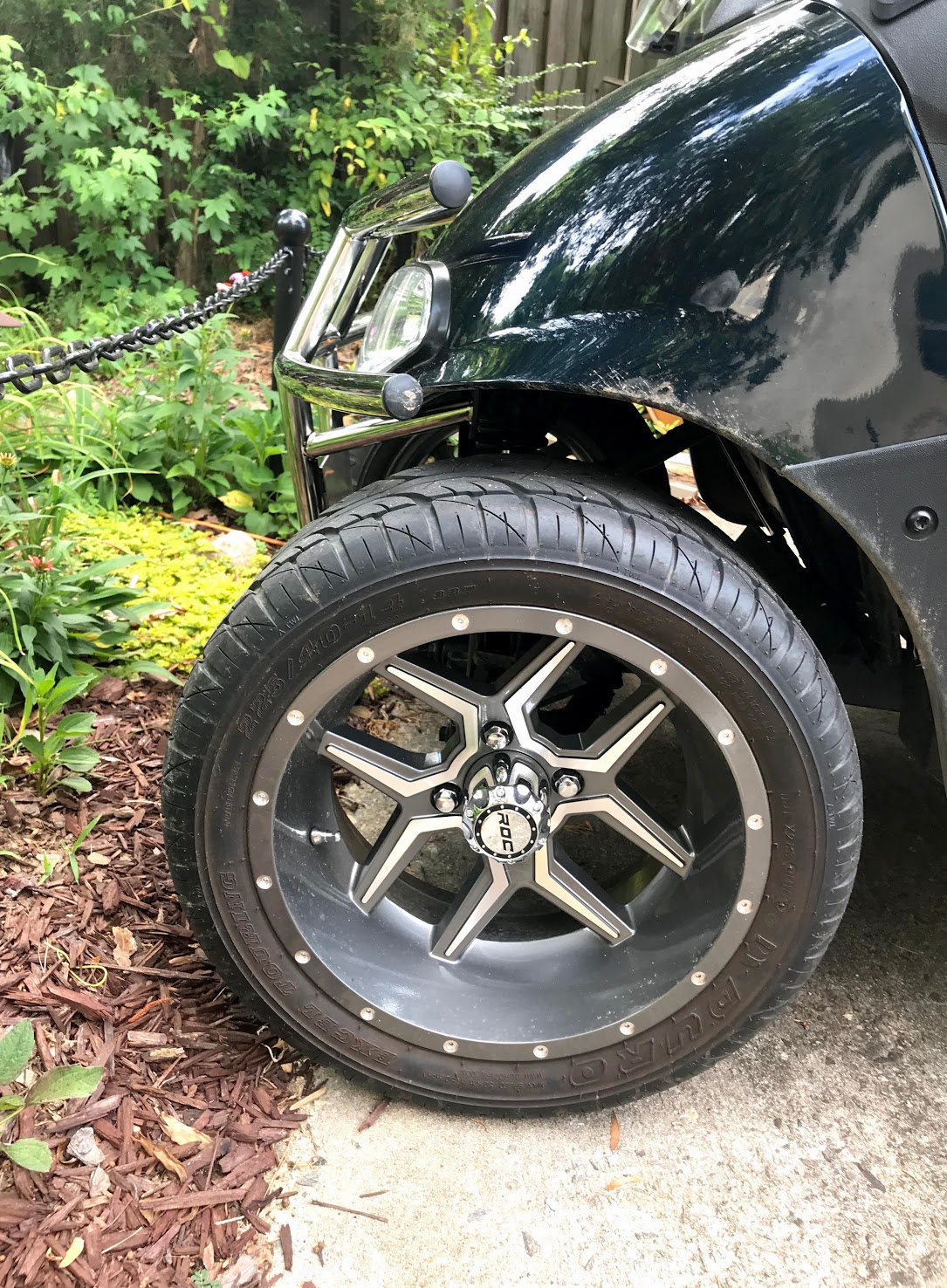 What I love most about my new refurbished golf cart are the 10 inch golf cart chrome wheels.
The mirrored chrome finish has a great shine.
The 10 inch tire provides more stability and a smoother ride while the larger chrome wheels add a great custom look to the golf cart.
Black Golf Cart Wheels

Glossy black or black matte is a popular finish for custom golf cart wheels.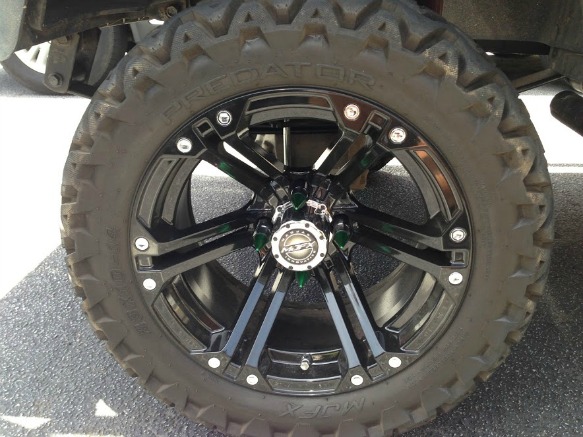 Black Golf Cart Wheels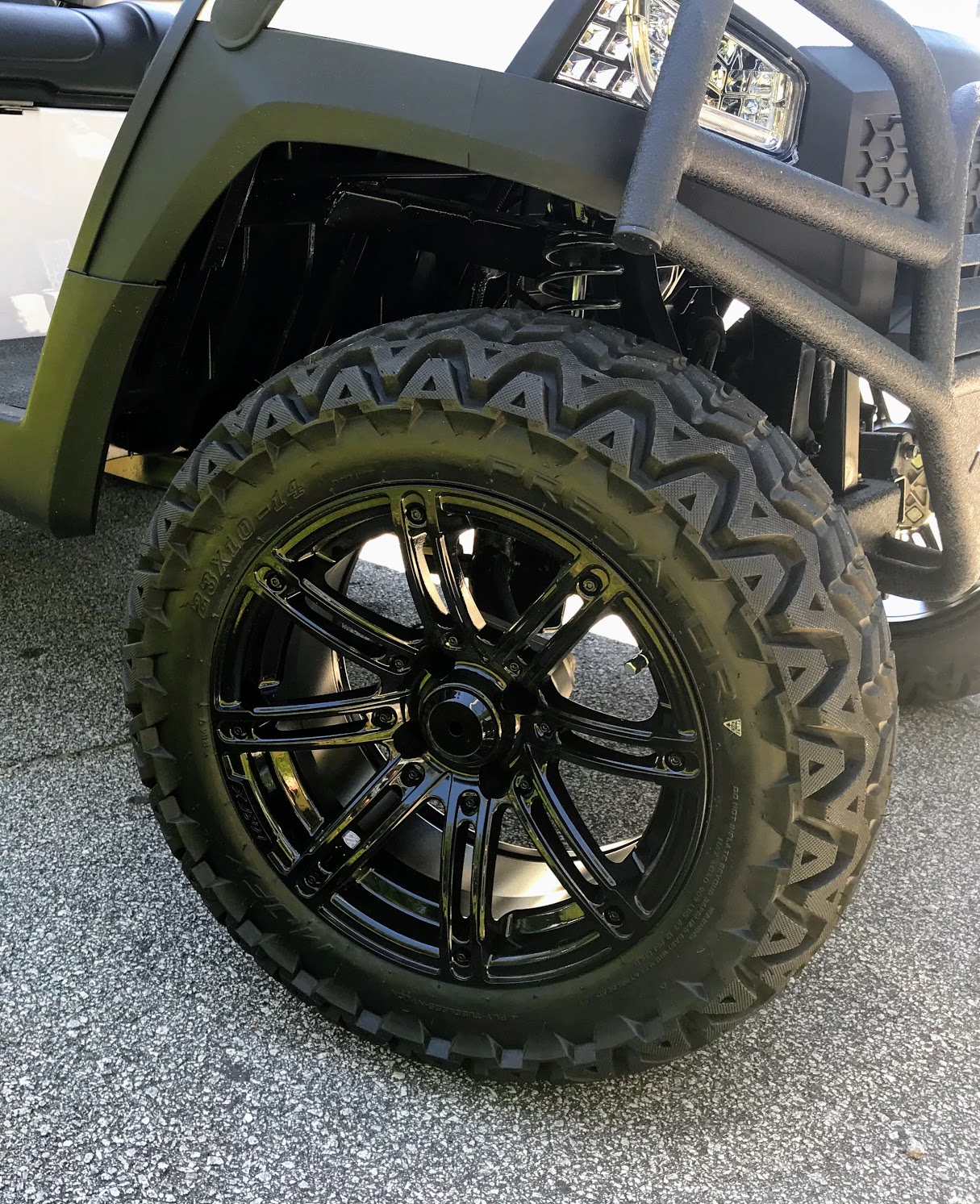 If you want to save money and get a set that includes (4) Brand New 22x11-10 All Terrain Tires, (4) 10"x7" BULLDOG BLACK Aluminum wheels, (4) Black Center caps, (4) Sets of black lug nuts here it is.  The wheel and tire combo measures 22" tall so a lift kit is needed for Club Car, EZ Go and Yamaha golf carts. The all terrain tread is great for off road use.   The wheels come mounted and the tires have the proper pressure.
10" BULLDOG Black Wheels and 22x11-10 All Terrain Golf Cart Tires - Set of 4
Colored Custom Golf Cart Wheels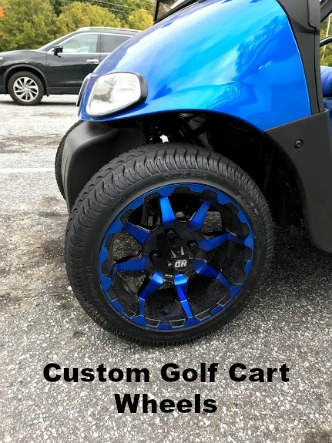 I am seeing all kinds of colored custom golf cart wheels in my golf cart community - from red to blue to green.  So many more options have become available in the past few years.  
Madjax 12" Illusion Blue Golf Cart Wheels/Rims E-Z-GO & Club Car
A white and black wheel color combination coordinates with the golf cart body color for a custom look.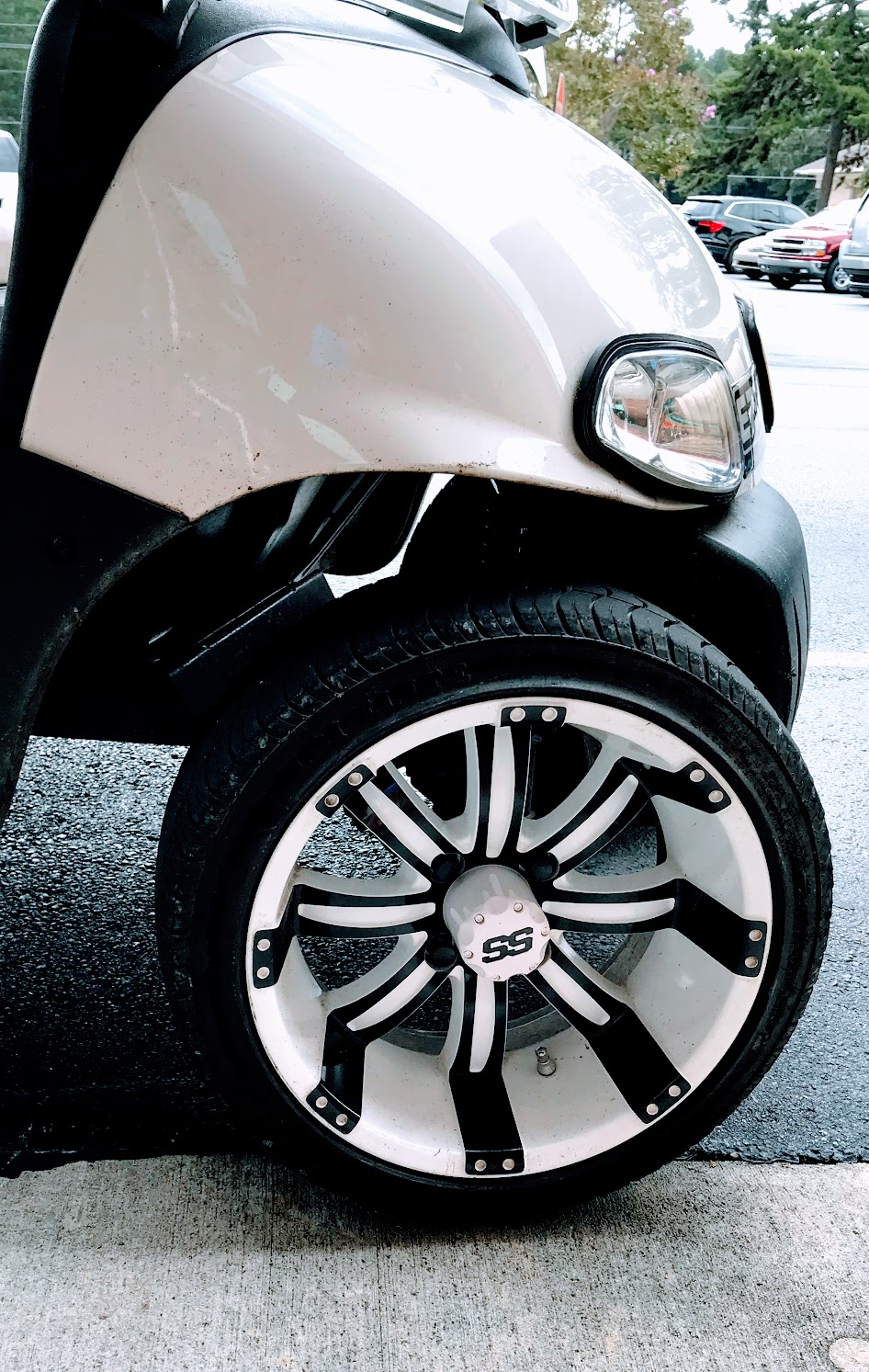 A set of 4 low profile 10" tires and custom white and black wheels can be purchased as a set to save you money:
10" VEGAS Golf Cart Wheels and 205/50-10 DOT Low Profile Golf Cart Tires Combo - Set of 4 (CHOOSE YOUR COLOR!) (White/Black)
Low Profile Golf Cart Tires and Wheels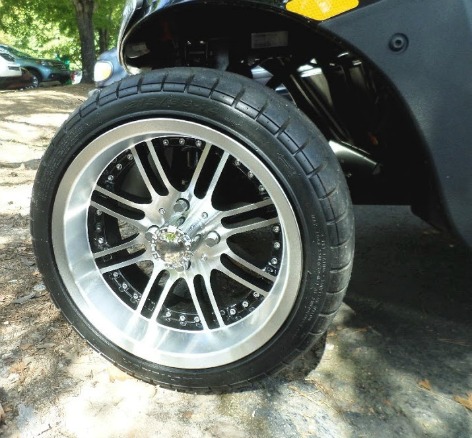 A low profile golf cart tire allows one to use a larger wheel (think 10"-12") without having to add a lift kit.  Normally recommended for paved paths and streets and not off-roading, many of these tires are street legal. If you like the look of a larger custom golf cart wheel without having to customize your cart with a lift kit this is a great option.  Check out this combo 10" low profile tire and custom wheels for the best savings and almost all 5 star reviews:
10" VAMPIRE Machined/Black GOLF CART WHEELS AND 205/50-10 LOW PROFILE GOLF CART TIRES COMBO - SET OF 4
Custom Golf Cart Wheels and Tire Kits

If you are needing new tires, you can purchase golf cart wheels and tires already assembled, which means the wheels are already mounted onto the tire. This is what I did and it saved me some serious money.
You can get a set of custom wheels and tire assemblies featuring rugged 23x10-14 lifted all-terrain tires with dura chrome rims,14x7, with a -34mm offset at Amazon here:

14" Wheel Assembly Lifted All-Terrain Tire with Dura Chrome Custom Golf Cart Wheels - Set of 4
Most of these golf cart tire packages will give you a better price, but less options than if you were to select just your golf cart rims.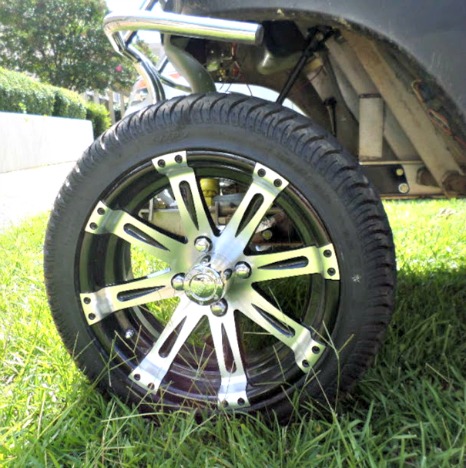 10" Vampire Machined/Black Golf Cart Wheels and 22x11-10 All Terrain Golf Cart Tires - Set of 4
Amazon carries an amazing selection with lots of good pictures to help you pick out the custom wheels that will be just right for your golf cart.
Golf Cart Wheels and Tires Combo Sets
Go from Custom Golf Cart Wheels to Golf Cart Wheels and Tires

Go from Custom Golf Cart Wheels to Golf Carts Etc. Home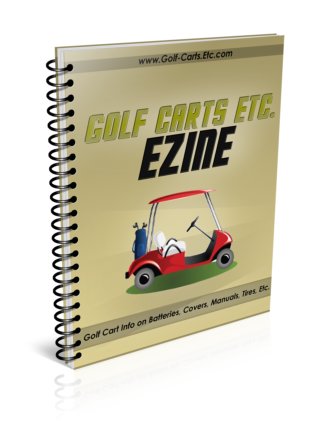 If you are interested in the free Golf Carts Etc. Newsletter you will find information and updates on:
√ Golf Cart Accessories and Products
√ Golf Cart Repair FAQ
√ Golf Cart and Battery Maintenance
√ Electric Golf Cart Reviews
√ Golf Cart Parts
√ Golf Cart Tires
.... and more. Your e-mail information will never be shared with anyone else. Simply sign up here: