EZGo Golf Cart Manual for Repair and Maintenance
An EZGO golf cart manual for repair and maintenance can help you keep your cart running optimally and can save you money on DIY repairs.

EZGO Golf Cart Service Manual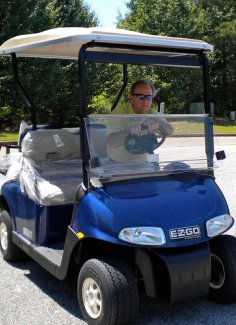 The EZGO golf cart owner's manual is available for free from the E-Z-Go dealers. You will need to know the make and model of your golf cart.
This golf cart manual includes basic information like how to change the headlight or a fuse, golf cart battery charging, maintenance and service schedule and how to operate the golf cart. If you bought your golf cart used and do not have an owner's manual, I suggest you get one. However, this manual does not have any golf cart wiring diagrams or golf cart repair instructions.
 Ask your local EZ GO dealer if they can provide you with one.

EZ Go Golf Cart Repair Manual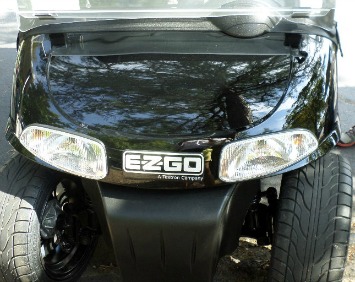 Golf cart repair manuals are essential if you choose to do your own gas or electric golf cart repair. Most golf cart dealerships don't carry them, but they can order one for you. You might as well do that yourself.
If you want to purchase a hard copy EZ GO Golf Cart Manual you can find them on online, at E-Bay or sometimes a used copy shows up on Craig's list.
Buying these golf cart repair manuals on line will cost you from sixty dollars to over one hundred dollars depending on the year, model and make of your golf cart. EZ go golf cart manuals are specific to electric or gas golf carts so be sure you have this information before making your purchase.
Amazon carries some golf cart repair manuals. You can also try Buggies Unlimited or Everything Carts.
EZGO Golf Cart Manuals
I refer to my golf cart service manual frequently and wouldn't own a golf cart without one. So if you are a do-it-yourself kind of guy, spend the money and invest in a hard copy for easy reference. It will pay for itself in one repair.

Go from EZGO Golf Cart Manual to Golf Cart Repair Manuals

Go from EZGo Golf Cart Manual to Golf Carts Etc. Home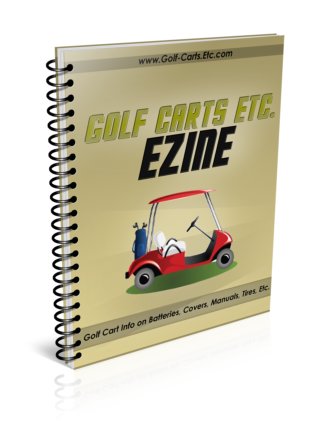 If you are interested in the free Golf Carts Etc. Newsletter you will find information and updates on:
√ Golf Cart Accessories and Products
√ Golf Cart Repair FAQ
√ Golf Cart and Battery Maintenance
√ Electric Golf Cart Reviews
√ Golf Cart Parts
√ Golf Cart Tires
.... and more. Your e-mail information will never be shared with anyone else. Simply sign up here: