Golf Cart Coolers, Cup Holders and Koozies
Golf cart coolers can be universal or specific to a golf cart make.  Having one means there's always a refreshing drink ready to go for yourself or your friends. 
I like this one that can be placed on the front cowl.  Easy to put on or take off. It's not in the way of your golf clubs in the back and it can fit on any make or model golf cart.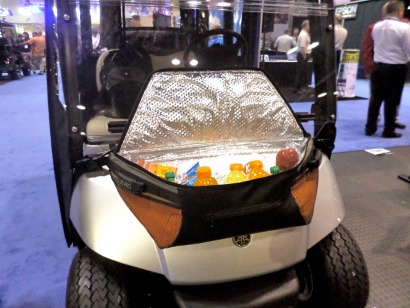 It's attached with adjustable buckle straps and holds up to 18 twelve ounce cans.  A drain plug allows for melted ice to drain. It comes in just one color - Tan. 
A pocket on top holds sandwiches or snacks and side pockets can hold napkins or extra balls and tees. 
Black Front Cowl Mounted Golf Cart Cooler (Universal Fit)
Attachable Golf Cart Coolers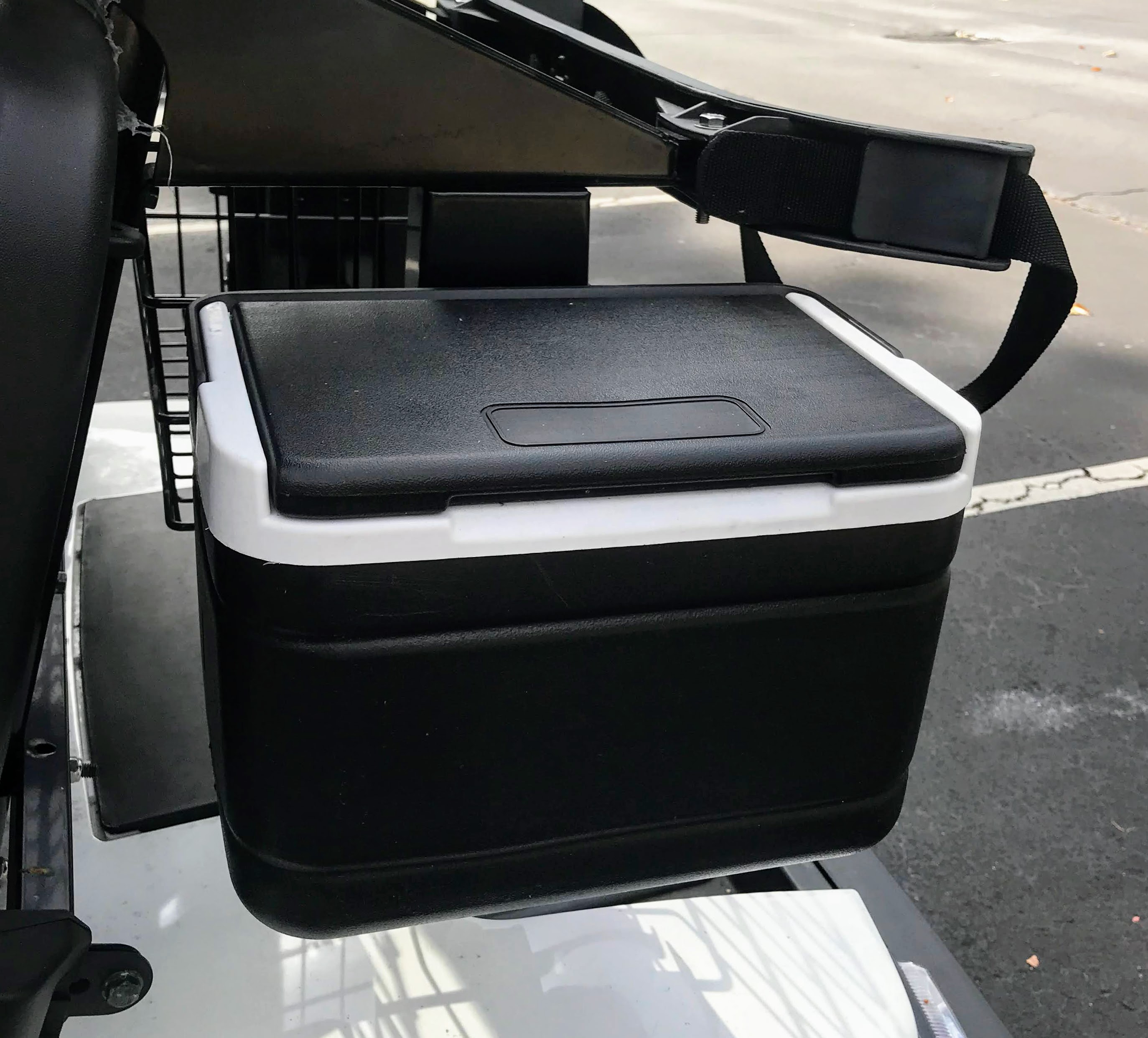 Attach this cooler to your golf cart for easy access. 
This type of hard sided cooler holds 12 cans and ice.
A universal cooler package includes the cooler and the mounting basket.  It will only fit on a 2 seater golf cart - not on golf carts with a rear seat. 

Golf Cart Cooler Kit With Mounting Bracket Fits All Golf Cart Year, Make and Models Without a Rear Seat Kit (Universal Fit)
Golf Cart Cup Holder
This golf cart cup holder attaches to the upright struts of your golf cart.  The clamp is really strong and will handle any tough terrain. Use it for different size cups or insulated tumblers. It is 3 1/4" in diameter at the very top and tapers down.  The the total length is 6.5".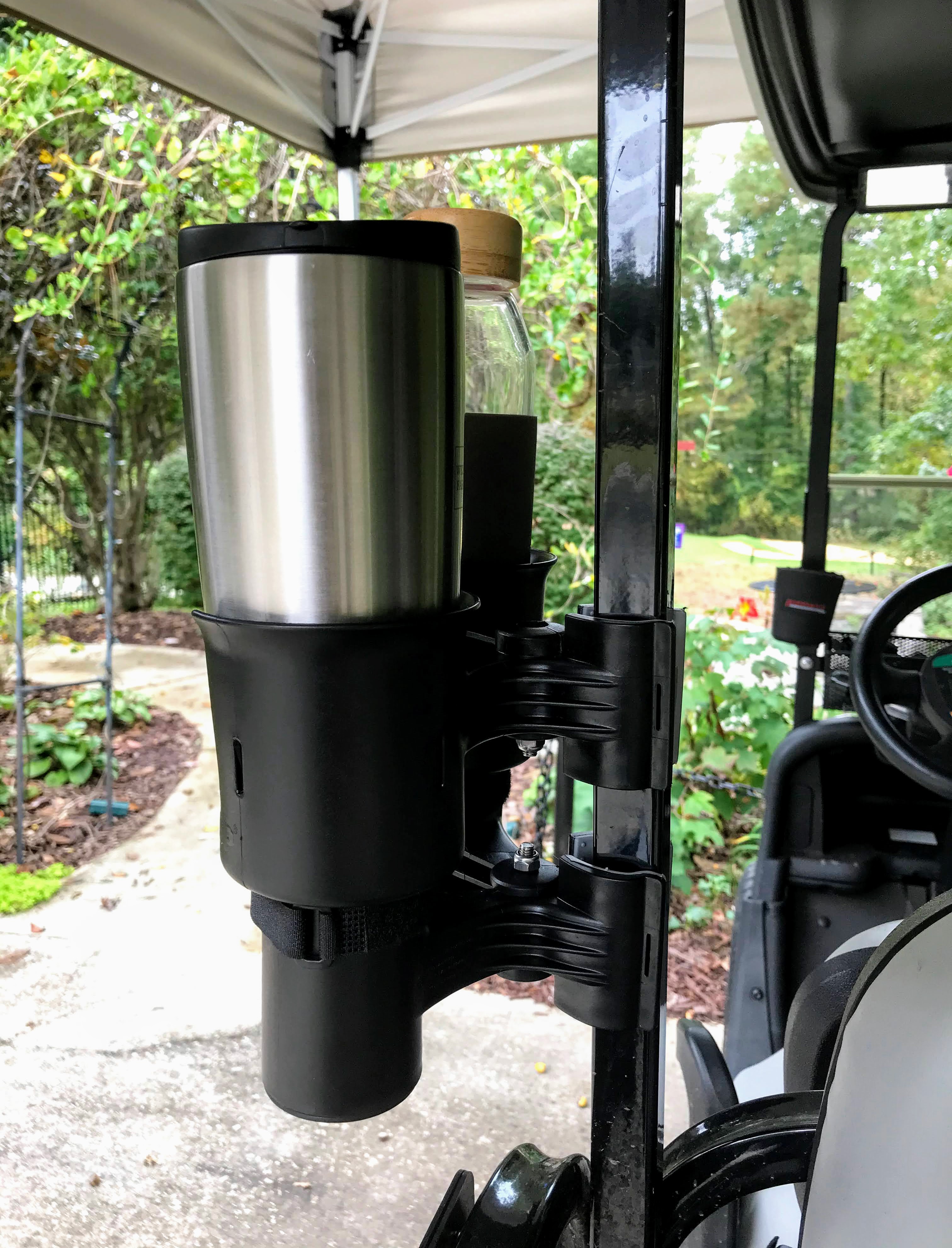 Clamp On ROBOCUP Cup Holder for Drinks For Your Golf Cart
Magnetic Golf Cart Can Holder
This magnetic golf cart can holder simply attaches to any of your metal golf cart struts.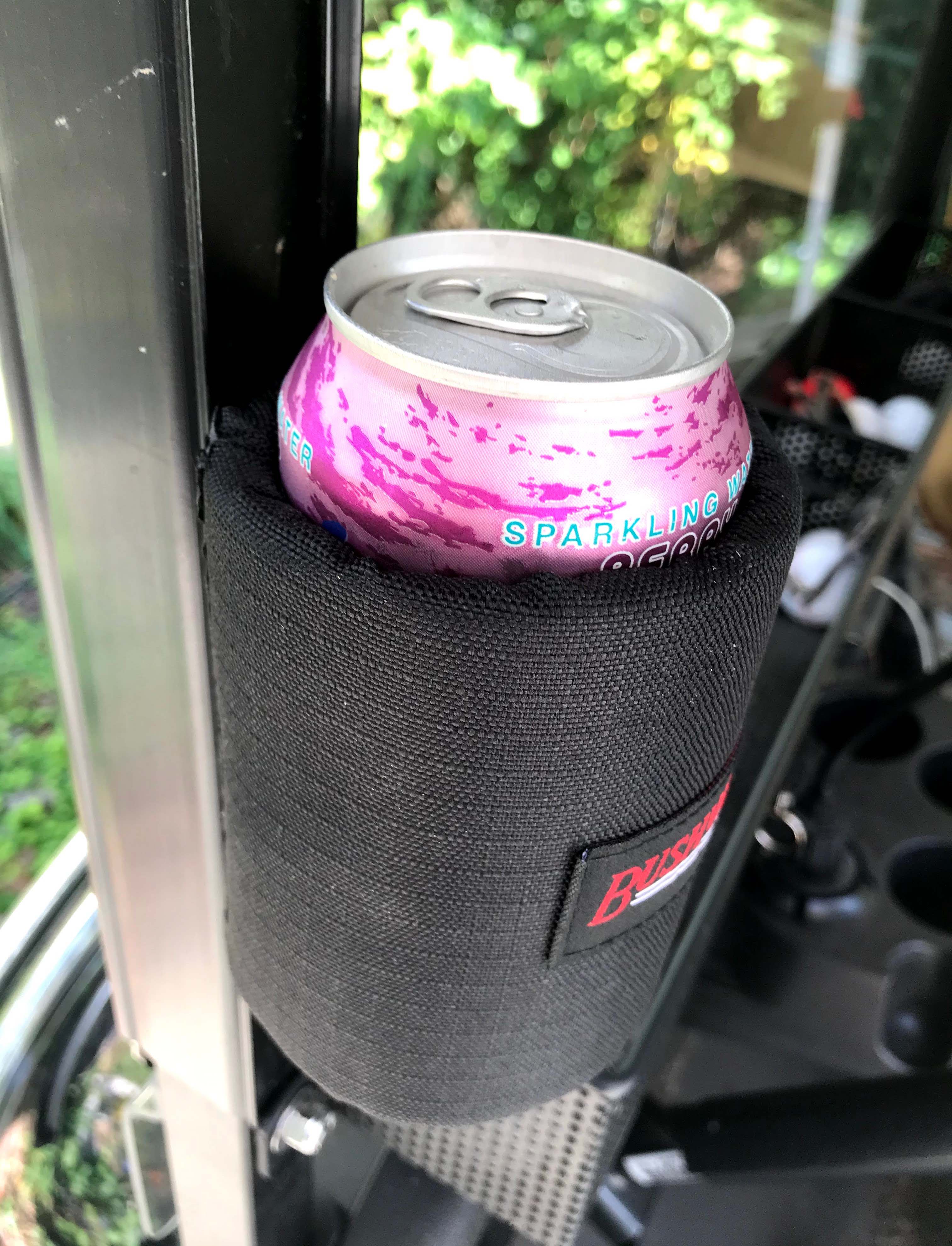 Easy to put on or take off, making it portable so you can take it with you when you are using your golf course golf carts.  It does a good job of insulating your drinks too.

Bushwhacker Magnetic Insulated 12oz Can Cooler - Great for Golf Carts
Koozie Coolers
If you are looking for the Cadillac of can koozies this is the one.  The name Thermos is synonymous with "cold."

It costs little more than a fabric koozie - so if you are serious about keeping your canned (or bottled drinks) cold this is the one to get.  I won't use any other koozie once I started using the Thermos can insulator.

Your drink will stay cold until the last drop - even after it's been sitting out in your golf cart as you continue to pursue your first hole in one. It's nothing like a fabric neoprene koozie - this one has a double walled vacuum insulation.
No sweating so no getting your hands wet.  
Thermos Stainless Steel Beverage Can Insulator for 12 Ounce Can
Keep your items cold and your body hydrated whether it's for a day of golfing, off roading, grocery shopping or picnicking with golf cart coolers, cup holders and beverage can insulators.

 Go from Golf Cart Coolers to Golf Cart Accessories
Go back to Golf Carts Etc. Home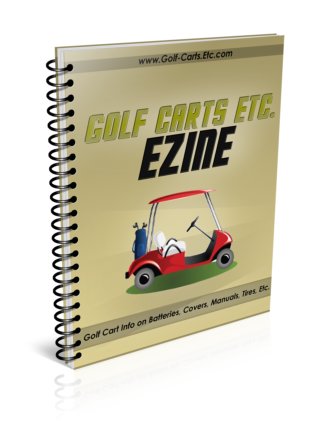 If you are interested in the free Golf Carts Etc. Newsletter you will find information and updates on:
√ Golf Cart Accessories and Products
√ Golf Cart Repair FAQ
√ Golf Cart and Battery Maintenance
√ Electric Golf Cart Reviews
√ Golf Cart Parts
√ Golf Cart Tires
.... and more. Your e-mail information will never be shared with anyone else. Simply sign up here: