Golf Cart Speaker
Enjoy anytime sound with a bluetooth golf cart speaker, stereo speaker system, or speaker bar. 
Bluetooth Golf Cart Speaker
We are loving our new bluetooth golf cart speaker. Thanks to bluetooth wireless technology, you too can enjoy your favorite music or radio station in the golf cart without having to install or hook up speakers.  I have been thinking about installing a radio and speakers which meant I also had to install a 12 volt converter reducer.   But if you just want to listen to music or the radio from your smart phone, iPod or Kindle all you need is a bluetooth speaker.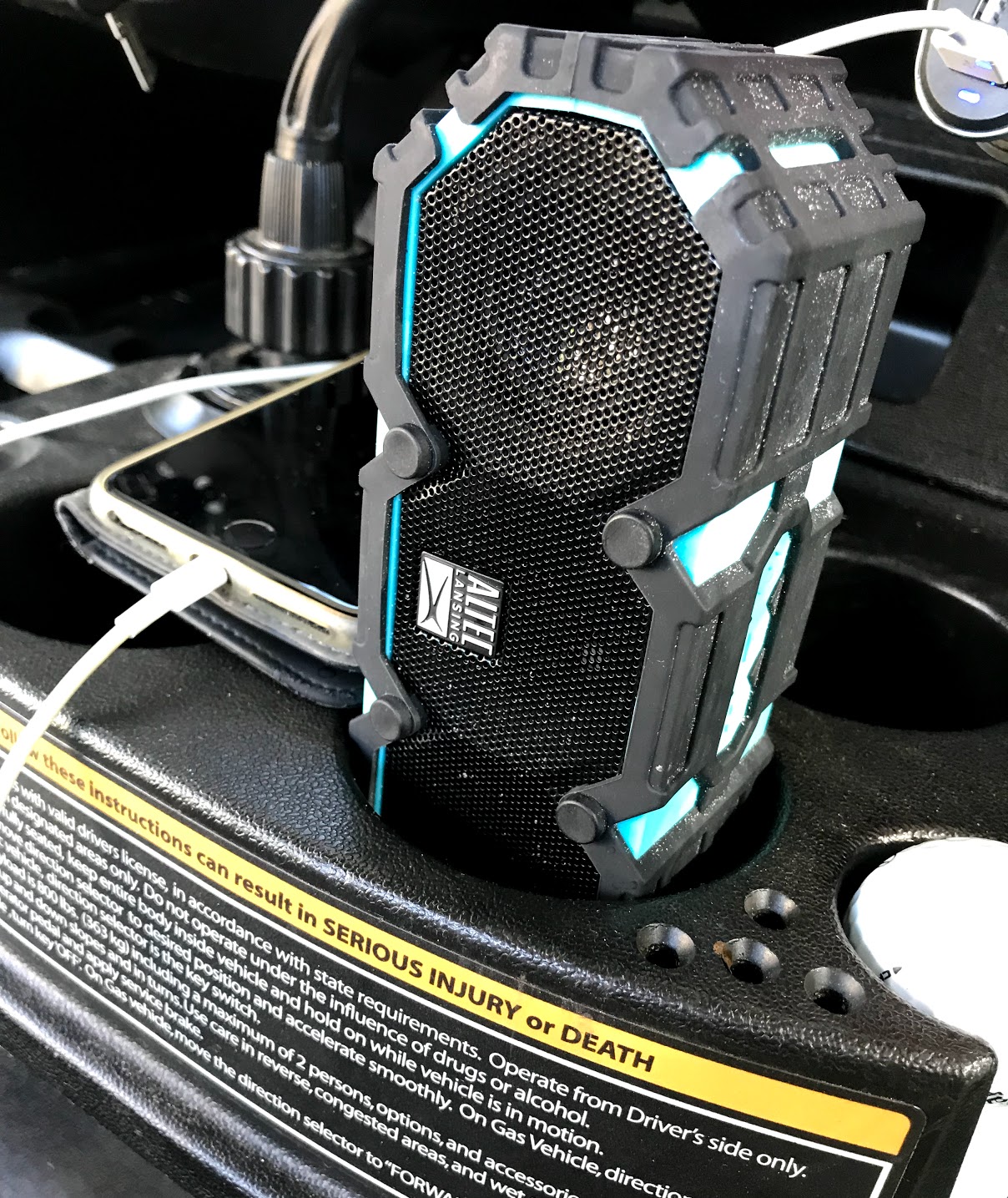 This waterproof blue tooth portable speaker has a rechargeable battery that can last up to 10 hours with full, high definition, clear sound. An advantage to this speaker is that it has a built-in mic for hands free speaker phone which makes it convenient to pick up a call when it's connected to your smartphone.

The rubber shell and interior design gives it a rugged look and also means it is splash and shock proof. We place ours in the golf cart cup holder and take it with us on the golf cart, to the pool and to the beach.

Altec Lansing IMW577-AB Lifejacket 2 Bluetooth Speaker, IP67 Waterproof, Shockproof, Snowproof, Everything-Proof Rating
Attach your blue tooth speaker to the struts of your golf cart windshield with this golf cart accessory. 

Adjustable velcro straps make it easy to put on or take off and allows for different size portable speakers.

The Original Bushwhacker Portable Blue Tooth Speaker Mount with Adjustable Straps for Golf Cart Struts
In Dash Golf Cart Stereo Speaker System
Where's the best place to put your golf cart speakers?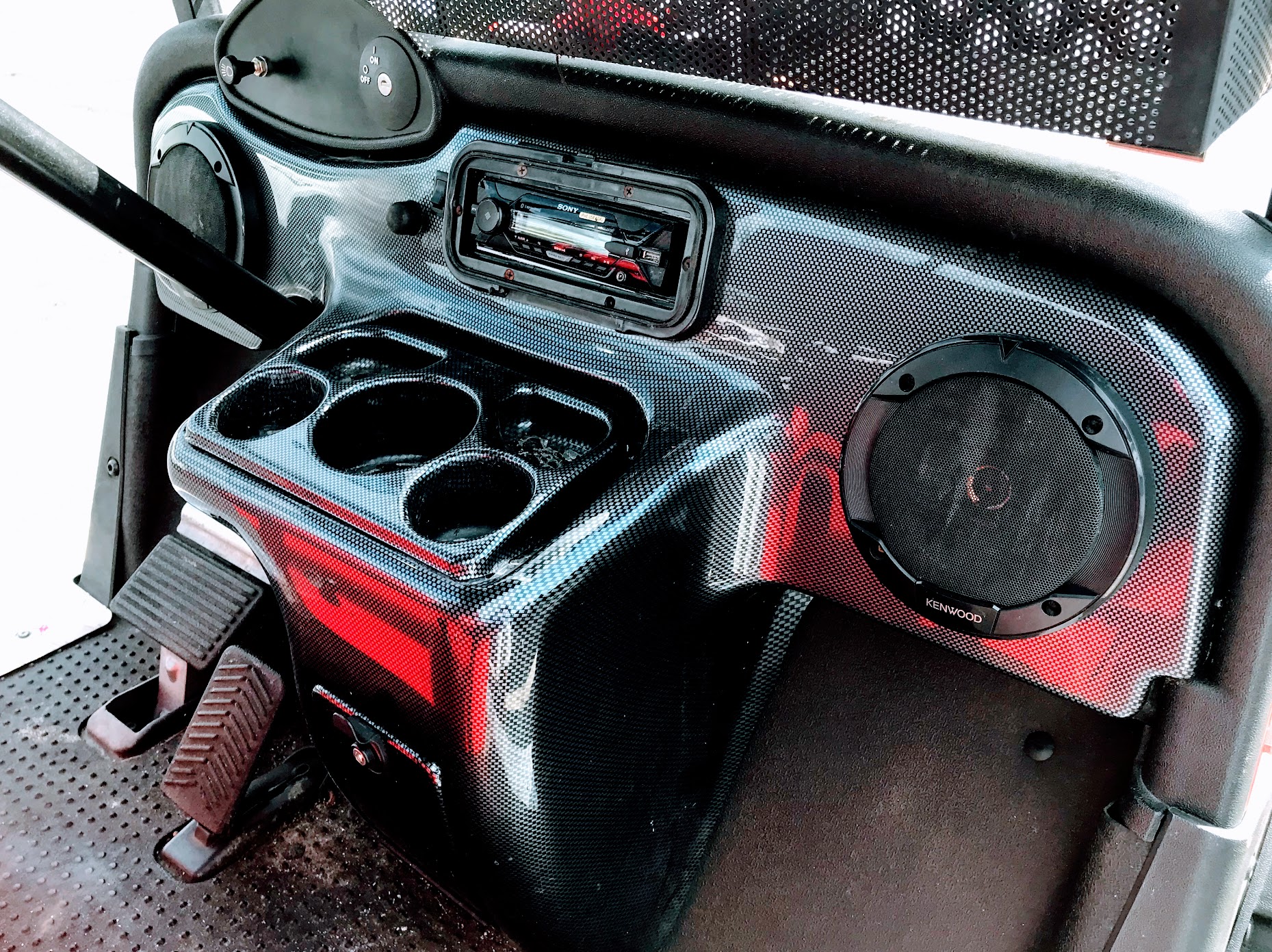 Upgrade your golf cart with in dash marine grade speakers and receiver. This set by Kenwood includes: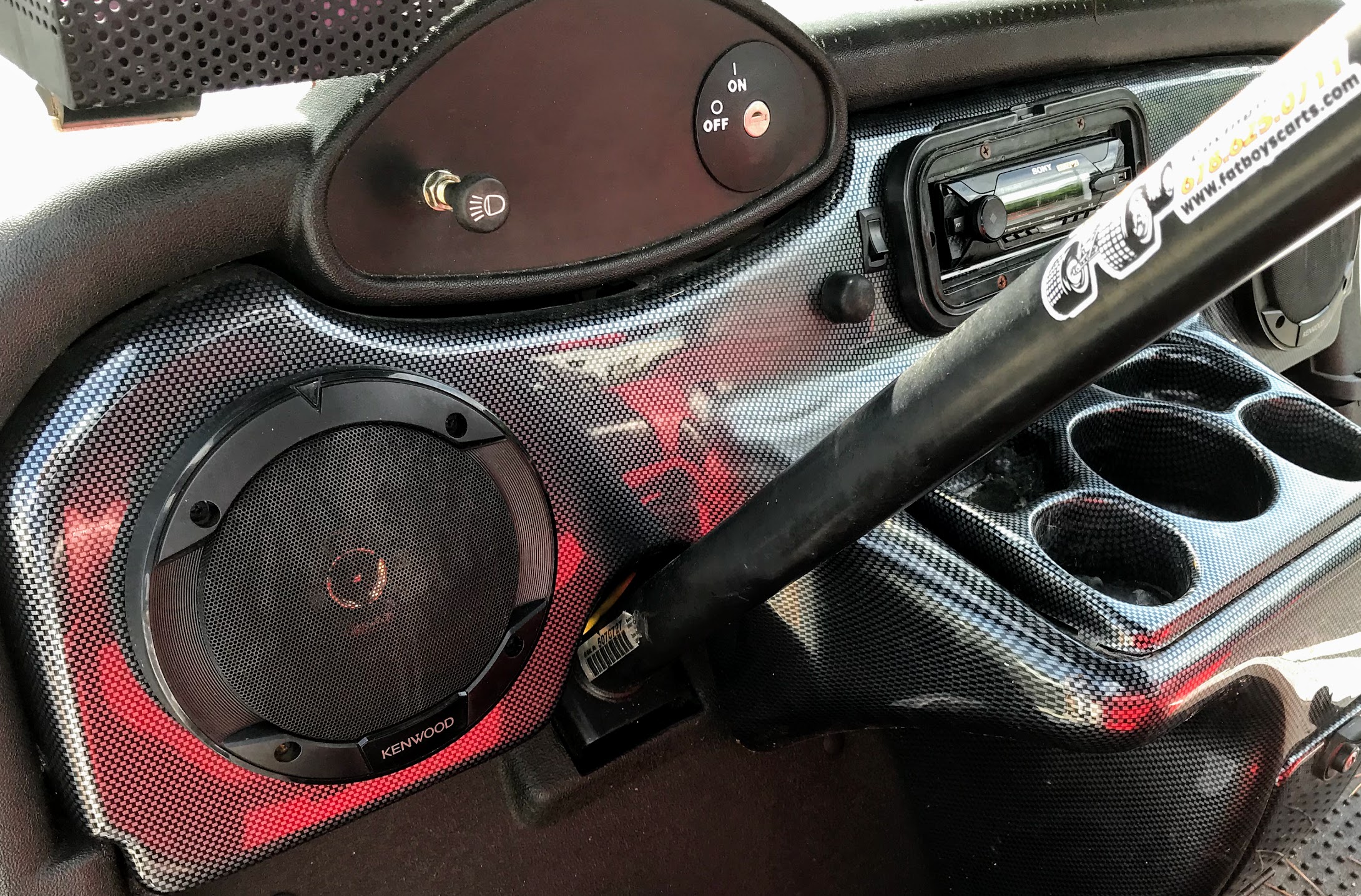 Package Includes: 1 Stereo 4 X 6.5 Marine Enrock Speakers 1 X 50 Ft Marine Speaker Wire on Spool 1 X Enrock Radio Antenna

Kenwood KMR-D375BT Marine CD Receiver with Built in Bluetooth & Variable Color Illumination USB and AUX Inputs Made For iPod & iPhone, Compatible with SiriusXM Satellite Radio Tuner

2 Pairs of Enrock Marine 2-Way 6.5 Inch Weather Resistant Full Range Speakers - 250 Watts Peak Power

EnrockMarine 20B Rubber Mast Marine AM/FM Radio Antenna

Enrock 18 Gauge 50 FT Stereo Marine Grade Speaker Wire
Marine Grade Stereo Receiver Speaker Kit - In-Dash LCD Digital Console Built-in Bluetooth & Microphone 6.5" Waterproof Speakers
Marine Grade Golf Cart Radio and Speakers
Place your marine grade speakers under the front seat, in the dash or behind the front seat.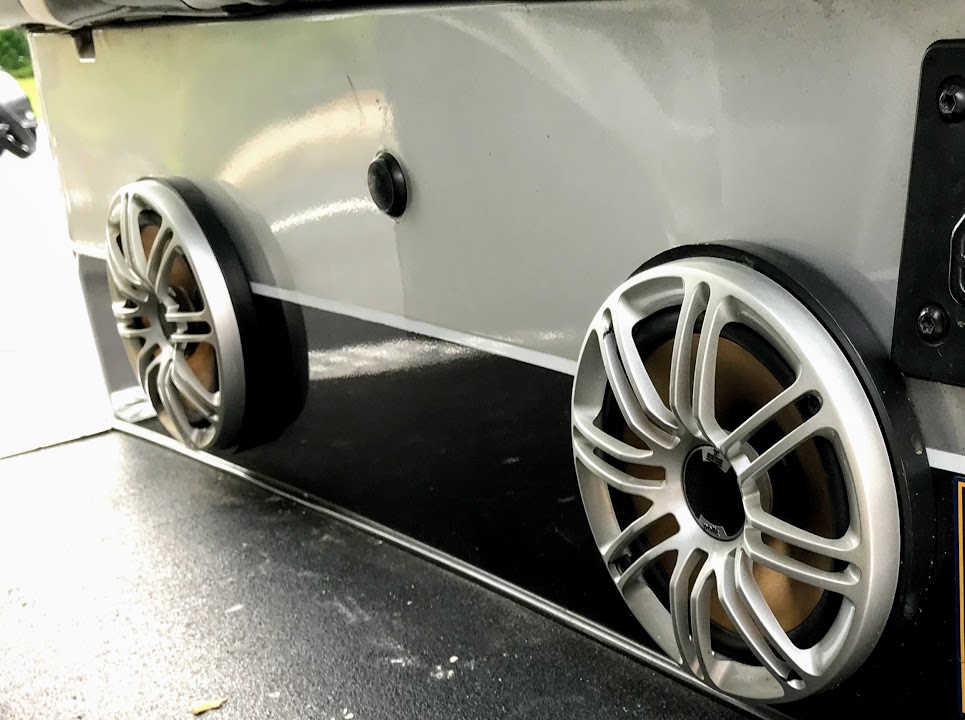 Install marine grade speakers so you'll have sound with you wherever you go no matter what the weather. Often they come as a set with a receiver, radio and waterproof speakers. With blue tooth capability you can listen to any choice of music.
Marine Grade Speakers
Marine grade speakers can be used in golf carts or ATV's. If you want great sound and an easy install check out this pair at Amazon:
Kicker Black Mini Wake Marine Enclosures with 4" DSC Speakers
Polk Golf Cart Stereo Speaker System
What also makes this a great golf cart speaker is that:
1.  Weather and Water Resistant
It boasts a Marine certified IP55 rating (water- and dirt-resistant) and tested for salt-fog, UV and humidit.
         Polypropylene and UV tolerant cone with waterproof inner and outer surrounds
Simple drop-in installation for any vehicle including cars, boats, ATVs—you name it

Cut out Diameter - 4.76" Bottom Mount - 2.01" Top Mount - 1.74"
3. Sound is crisp and crystal clear
A very well constructed speaker, with quality sound.

Polk Golf Cart Speakers
Blue Tooth Golf Cart Speaker System
What golf cart owners wouldn't enjoy these 4" Marine speakers powered by a waterproof 4 channels amplifier with an advanced Bluetooth remote control that has a built-in AUX input and light to work in dark conditions
Use the smart Bluetooth remote to control your phone's function or simply connect your music player to the remote's built in AUX input.

All around water resistant unit; ride in any weather conditions. Speakers, AMP & Bluetooth remote are all water resistant. The remote includes background light for dark conditions use.

Pair of 4" 2-Way Mountable Speakers, Marine Grade Waterproof Construction. These speakers can be mounted on any roll bar with size of 1.25"-2.1" (mounting pads are included)

800 watt, 4 channels, waterproof amplifier with ON/OFF switch
NOAM NUTV4 Quad - 4 Channels Marine Bluetooth Golf Cart Speakers Stereo System
Golf Cart Speaker Blue Tooth Sound Bar and Led Light System
This waterproof 8 speaker system has 4 marine grade speakers, 2 end loaded marine grade woofers and 2 front firing tweeters.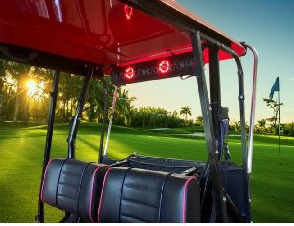 It can connect to any phone , tablet or MP3.  Not only does this system provide amazing sound, but it has an integrated illumination system of lights with flash patterns and different speeds and colors. 
Check out the five star reviews at Amazon here:
Bazooka BPB24 24-inch Bluetooth Party Bar Off Road Sound Bar and LED Illumination System
Cup Holder Golf Cart Speaker
Use a weather and splash resistant portable speaker that can be used in your golf cart or car cup holder.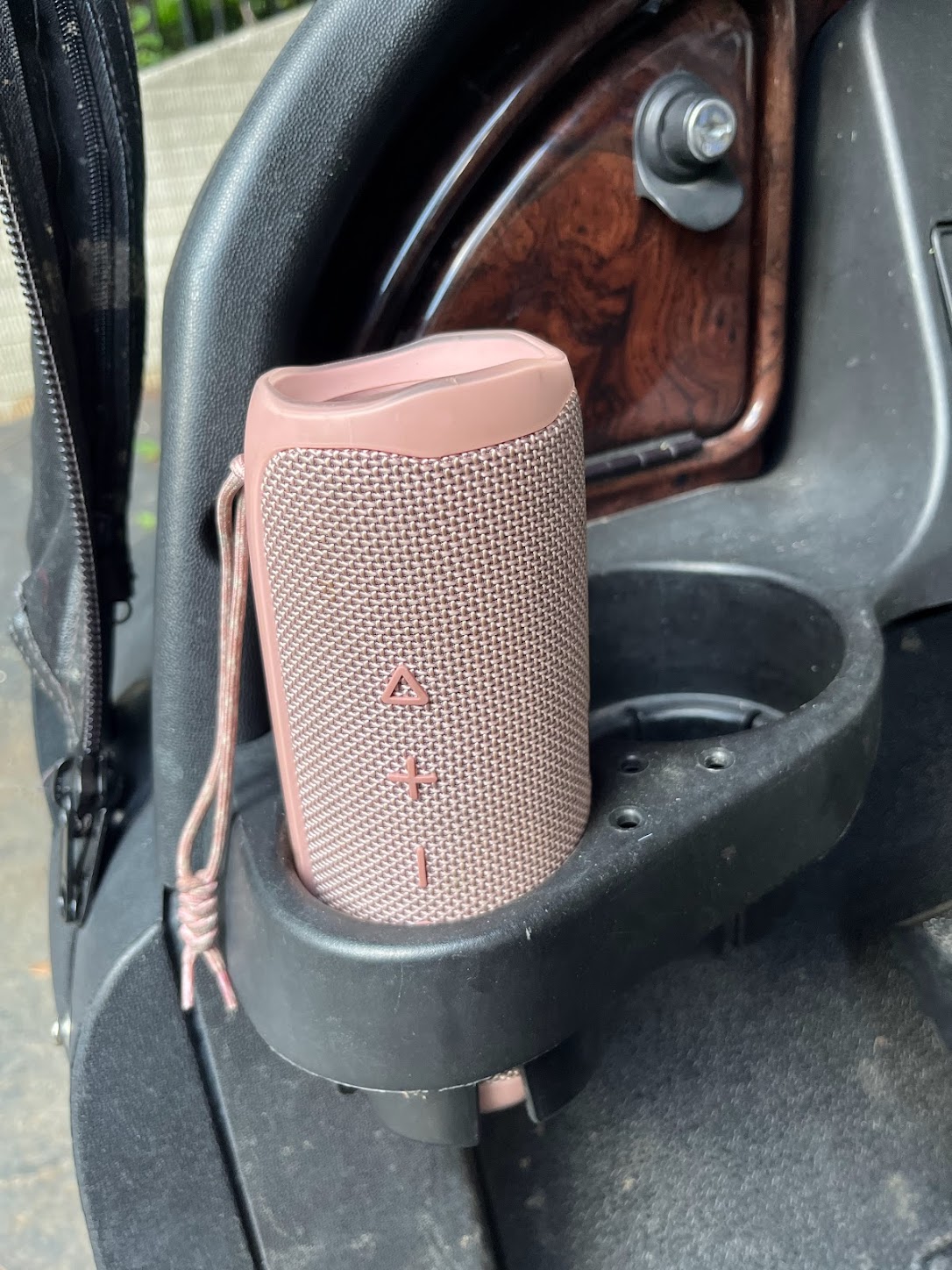 Features to look for are a built in mike to use as a speaker phone, easy to access controls and a long lasting rechargeable battery. 
Cup Holder Bluetooth Golf Cart Speaker
Forget about installing a radio or speakers and simplify with a blue tooth golf cart speaker.

Cell Phone Windshield Mount
If you are going to listen to music or the radio, you have to play from a blue tooth device like a cell phone, iPod or other MP3 player.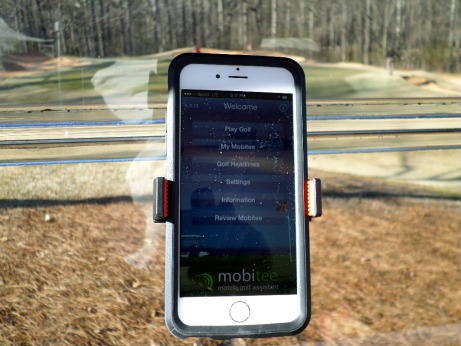 An easy way to keep it safe and secure is with this universal cell phone mount that attaches to any windshield.  It has a really strong suction seal that latches on to the surface thanks to a locking mechanism on the back which keeps it from moving or falling off.
It will rotate to any position - horizontal or vertical - and stay there. Any devices up to 3.5" will fit into the grips.  The adjustable side grips open easily to remove or to put in a different device yet when closed the grips are really tight. I got mine at Amazon:
SCOSCHE MAGWDM MagicMount Universal Magnetic Phone/GPS Suction Cup Mount
So go wireless, forget about draining your golf cart batteries, and enjoy your favorite music with the latest portable blue tooth technology

Go from Golf Cart Speaker to Golf Cart Accessories
Return to Golf Carts Etc. Home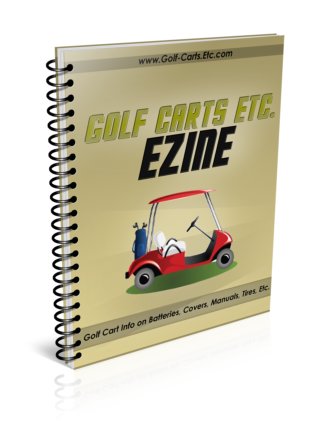 If you are interested in the free Golf Carts Etc. Newsletter you will find information and updates on:
√ Golf Cart Accessories and Products
√ Golf Cart Repair FAQ
√ Golf Cart and Battery Maintenance
√ Electric Golf Cart Reviews
√ Golf Cart Parts
√ Golf Cart Tires
.... and more. Your e-mail information will never be shared with anyone else. Simply sign up here: