Golf Cart Tops
Golf Cart Roof Lengths and Colors
Golf cart tops keep you dry on rainy days and protect you from the glaring sun on hot days. Sometimes golf carts are sold without a roof and you may need to add your own. This accessory comes in different lengths and different colors for a custom look.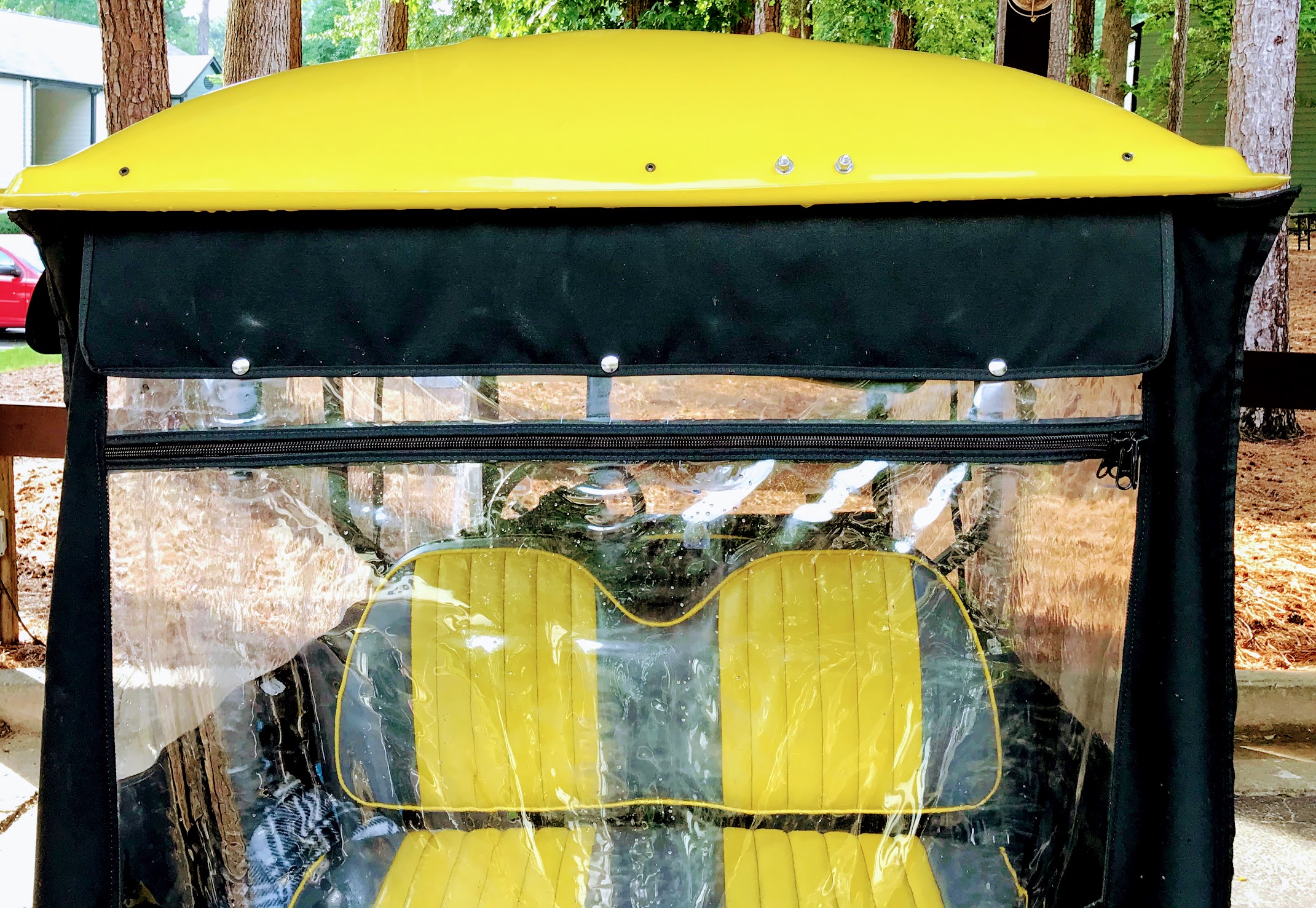 If the golf cart you want, doesn't have a golf cart roof, you can easily purchase this golf cart accessory with the supporting brackets and install it yourself.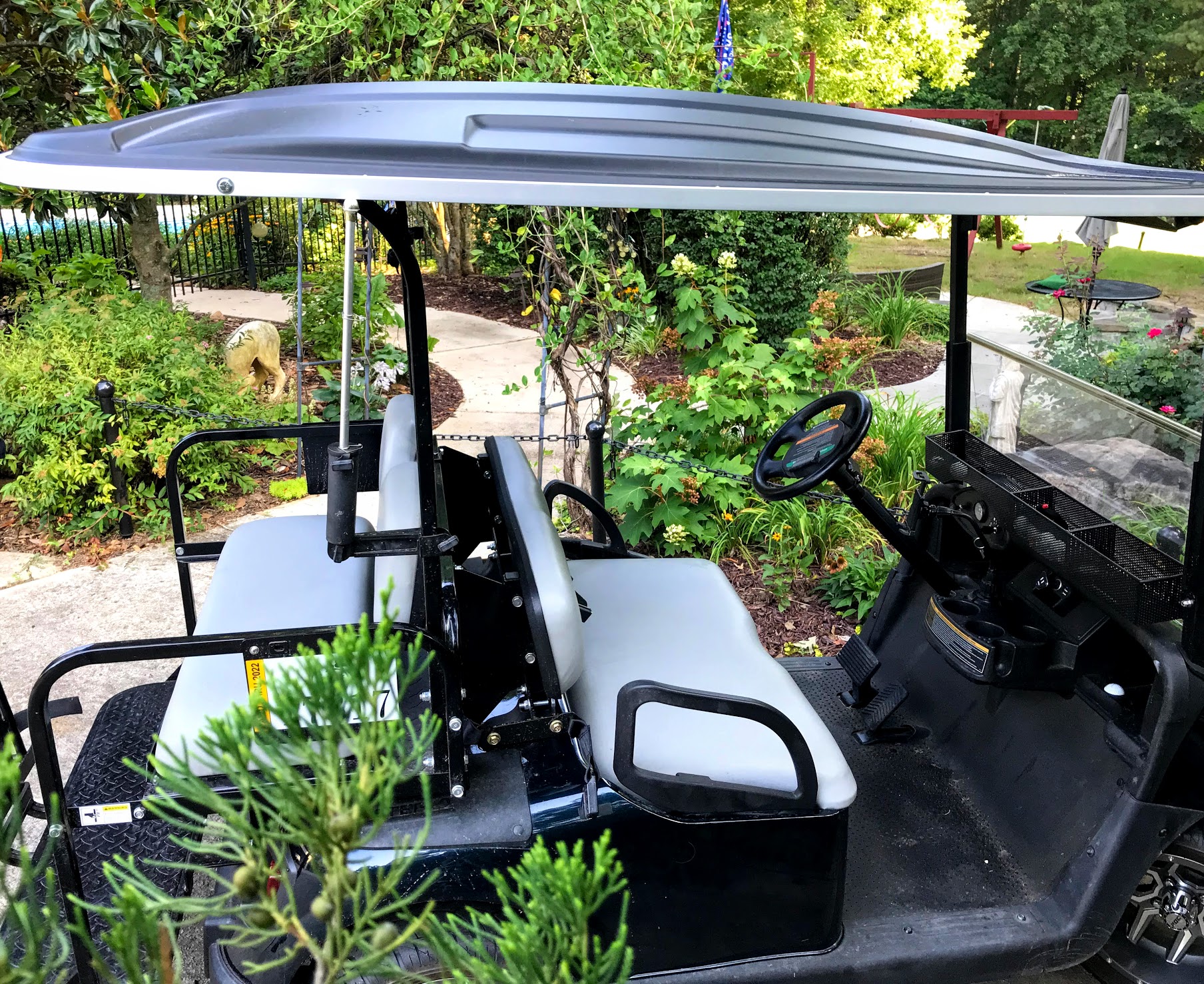 The standard size roof does not cover the back seat of a 4 seater golf cart. 
An extended top covers and protects those who are in the back seat.

Overtime, you may find that your golf cart roof has developed some cracks and holes, like ours has. It pays to make a few phone calls.
We have several golf cart businesses in Peachtree City and the same 2 passenger Club Car golf cart top ranged in price from $400 to $550.
I checked to see if buying it on line would provide some savings, but there can be shipping costs . Standard size golf cart roof kits include the struts and a frame for added strength and to prevent warping.
Custom Colored Golf Cart Roofs

The most common color for golf cart roofs is white or cream. But you can certainly get other colors as well - like this black one that coordinates with the color of the body.

Colored tops are more expensive than the white ones, but provide a more custom look.
Do you like this black roof? See how it give a custom look to the cart?
Many people get a roof that matches the color of their golf cart body like this red one.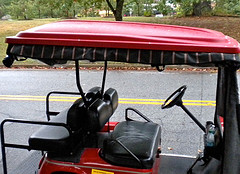 Another custom option is to have an aluminum or powder coated black trim placed along the bottom edge of the top. Golf cart tops can come in just about any color - red, black, burgundy, navy blue, etc.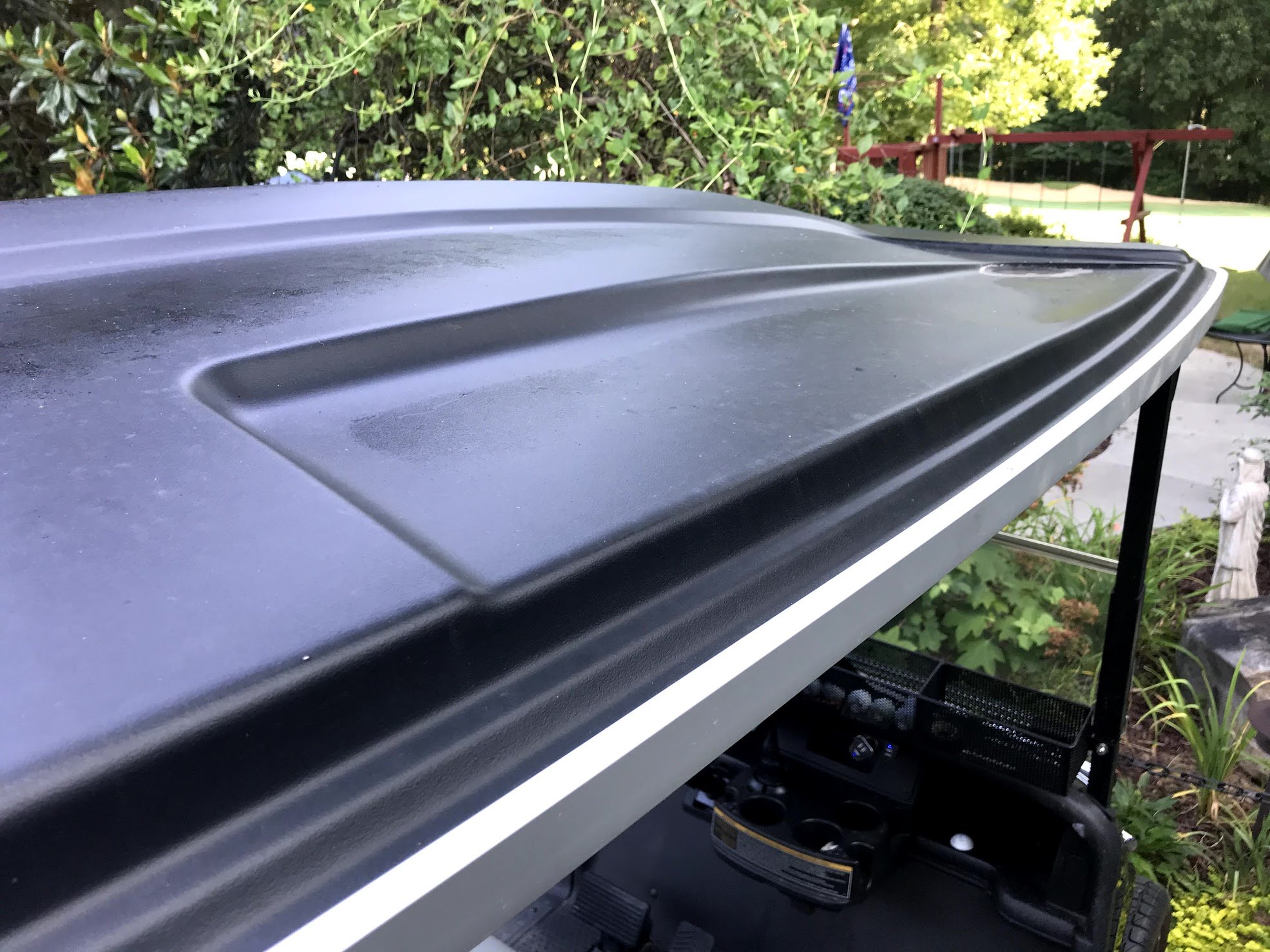 You can even get a custom painted roof to match the color of the cart.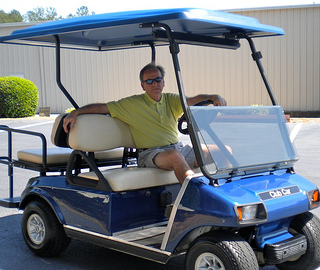 However, if you are going to use an over the top golf cart enclosure, don't spend the extra money buying a colored golf cart top, because it will be covered up by the enclosure.
Golf Cart Roof Handles

New tops often come with grab handles to help with getting in and out of the cart.

You can buy your golf cart roof with handles or you can add them to your existing golf cart top.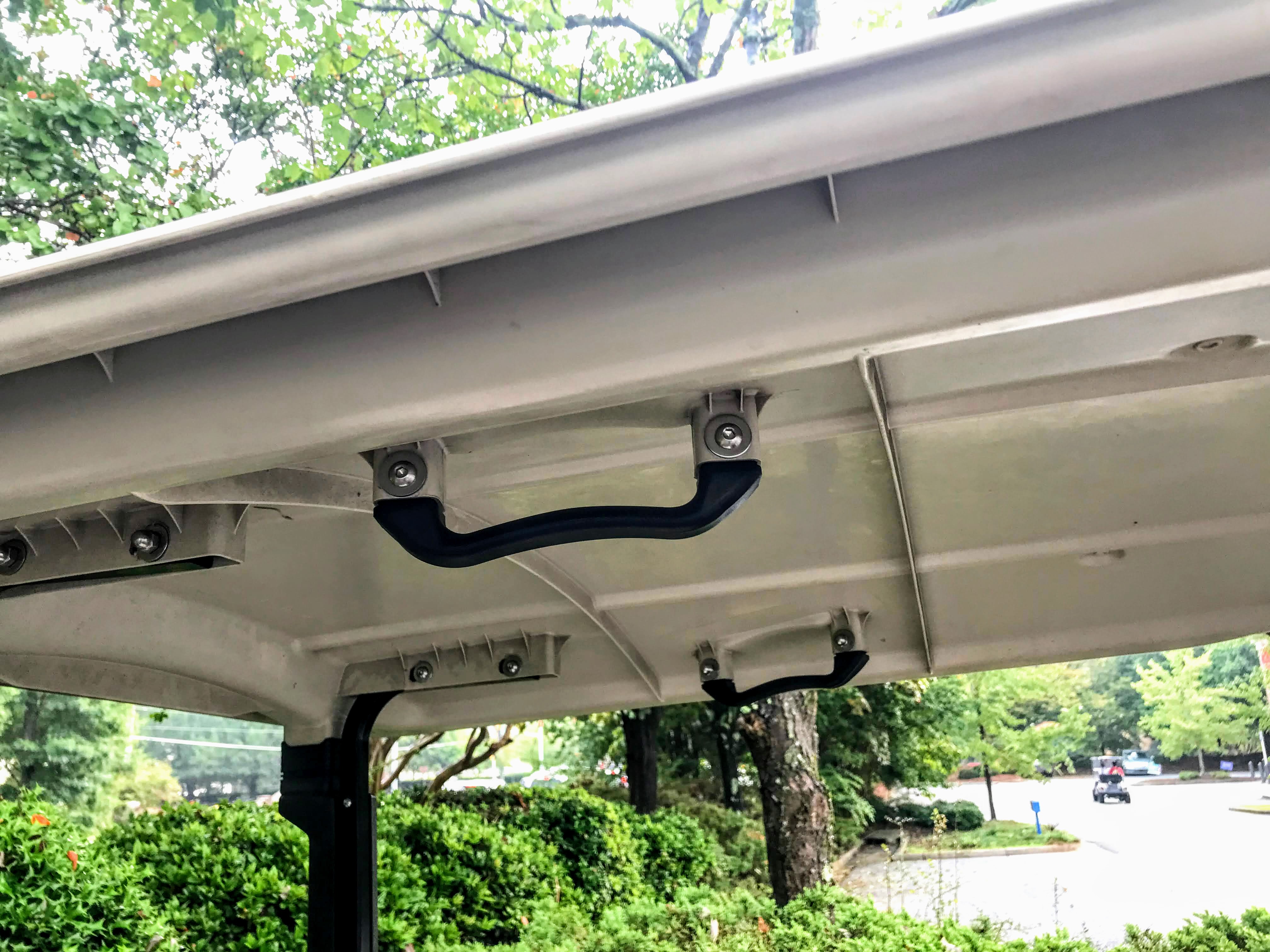 Grab Handle Set of 2 for Club Car EZGO and Yamaha Golf Cart Models
Extended Golf Cart Tops

Golf cart roofs come in different lengths from 54" to 112" depending on the number passenger golf cart.  As you can see from this picture the top on this 4 seat golf cart it too short.
This golf cart roof doesn't extend over the rear seat.  When a back seat is added, change out your standard top for an extended one so that the back seat passengers can enjoy some shade and protection too. 
The determining factor is if you own a 2, 4 or 6 passenger golf cart. With a standard roof, anyone sitting in the back will not be protected from the sun or rain. 
However, it can be easily changed by purchasing an extended golf cart roof.
You will need to know the year the golf cart was made. Some golf cart tops are specific to a golf cart make and model.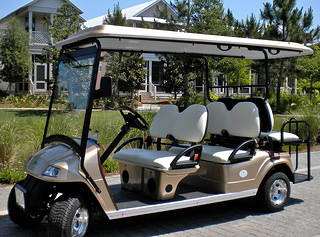 The other consideration is if your golf cart is a 2, 4 or 6 passenger cart. As you can see from this picture the roof accommodates all of the seats keeping everyone protected from the hot sun or drizzling rain.

Golf Cart Roof Kit with Struts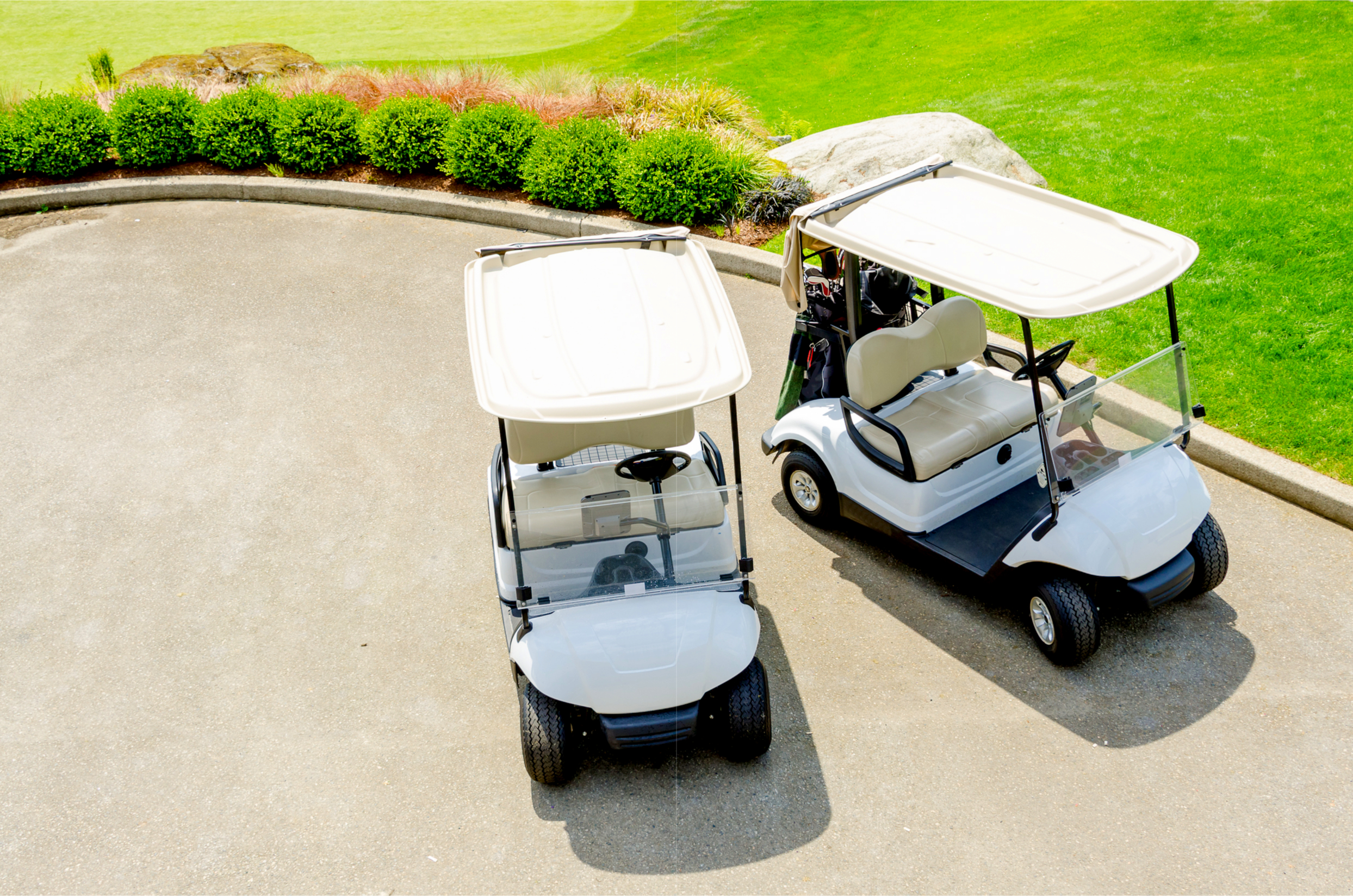 Golf cart roofs can be bought from your local golf cart dealer, E-bay, Everything Carts, Amazon or on Craig's list.
You can purchase new ones as a kit that include the front and rear supports or just purchase the top. Most of these struts or supports are aluminum but you can get them in black too.  Check out a nice selection at E-Bay here...

https://ebay.us/fEsZbK
Cover Your Old Golf Cart Top
If you want to change out the color of your top or maybe it's developed some cracks, you can try putting on a golf cart roof cover. 
With over 30 colors to choose from, there is sure to be one that will match your golf cart body. Select your color and golf cart model and for a lot less money you can have a new top so you don't need to remove and replace your old one.
One Stripe Golf Cart Custom Vinyl Canopy Roof Cover, Covers Existing Hard Top - (cover only, not hard top) Choose your model and color from colorchart
Golf Cart Roof and Enclosures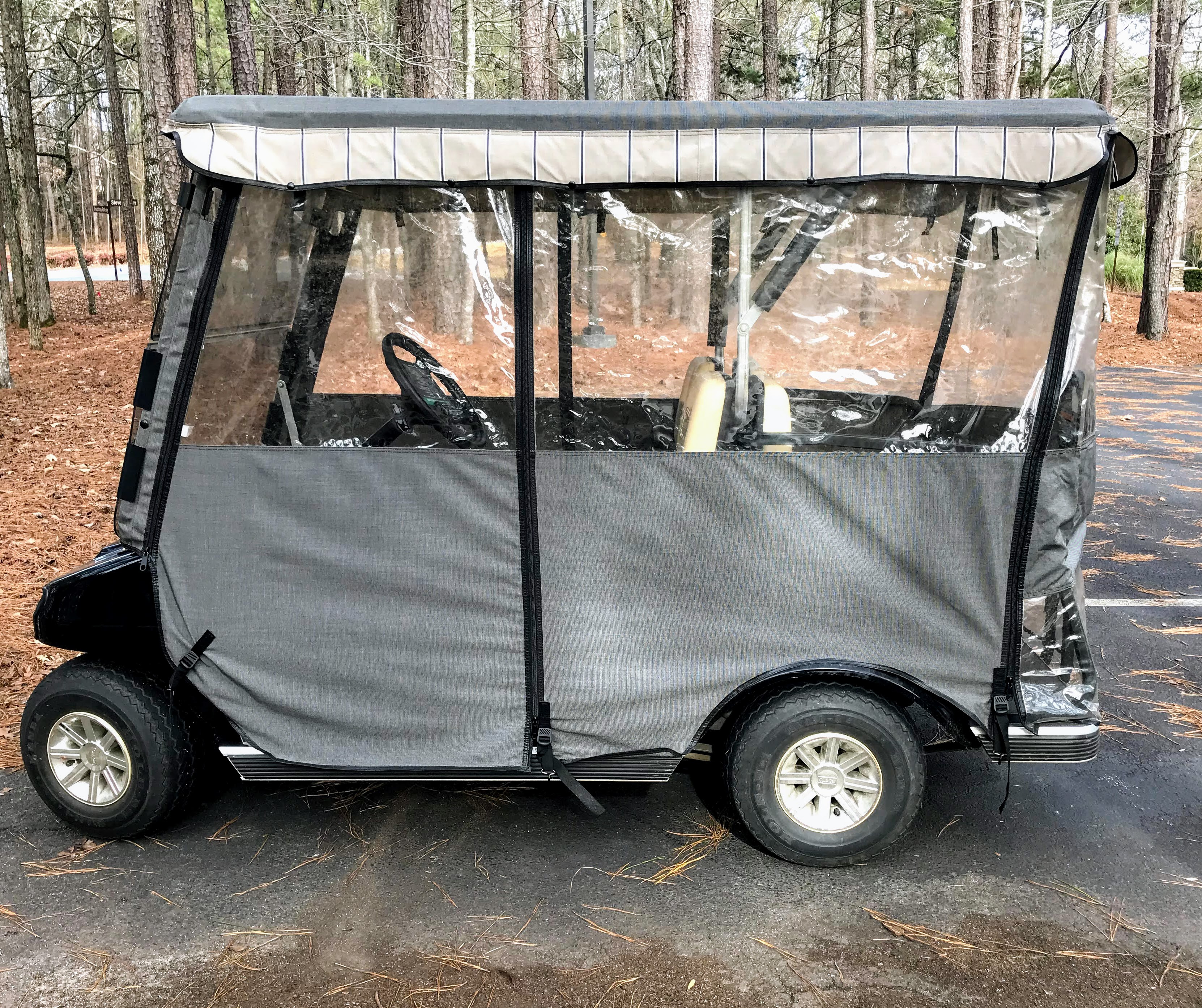 Keep in mind if you decide to add a golf cart enclosure that sits over the golf cart roof rather than the track system, the color of the roof won't matter - because the enclosure covers it.

Buy Used
I replaced my golf cart top with one I found at a golf cart salvage place. Want to know how I found it? I placed an ad (for free) on Craig's list stating that I was looking for a used golf cart top. Several people and dealers responded to me. I payed half of what it would have cost if I had bought a new one.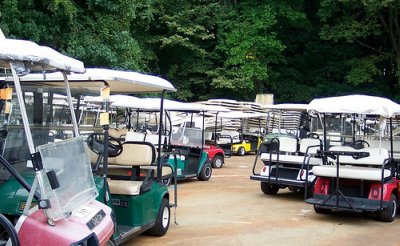 So off I went to the golf cart "yard" and after some help from Tony we were able to locate a used top that should work just great. This is an easy do-it-yourself job. It took me about fifteen minutes to take off the old golf cart roof and put on the new top.
It took me a lot longer to clean and scrub the dirt off - but now it looks like new :)  
Replacing or adding a roof can be simply functional, providing protection from the rain or sun, or it be a customized feature for your golf cart.
Go from Golf Cart Tops to Golf Cart Body

Go from Golf Cart Tops to Golf Carts Etc. Home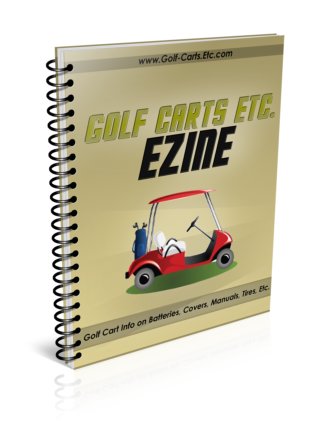 If you are interested in the free Golf Carts Etc. Newsletter you will find information and updates on:
√ Golf Cart Accessories and Products
√ Golf Cart Repair FAQ
√ Golf Cart and Battery Maintenance
√ Electric Golf Cart Reviews
√ Golf Cart Parts
√ Golf Cart Tires
.... and more. Your e-mail information will never be shared with anyone else. Simply sign up here: