Golf Cart Safety

Golf cart safety practices are essential for driving and for maintaining your golf cart. Golf cart accidents can be serious and indeed there have been many deaths. The combination of sulfuric acid and explosive gases can be dangerous and require special precautions.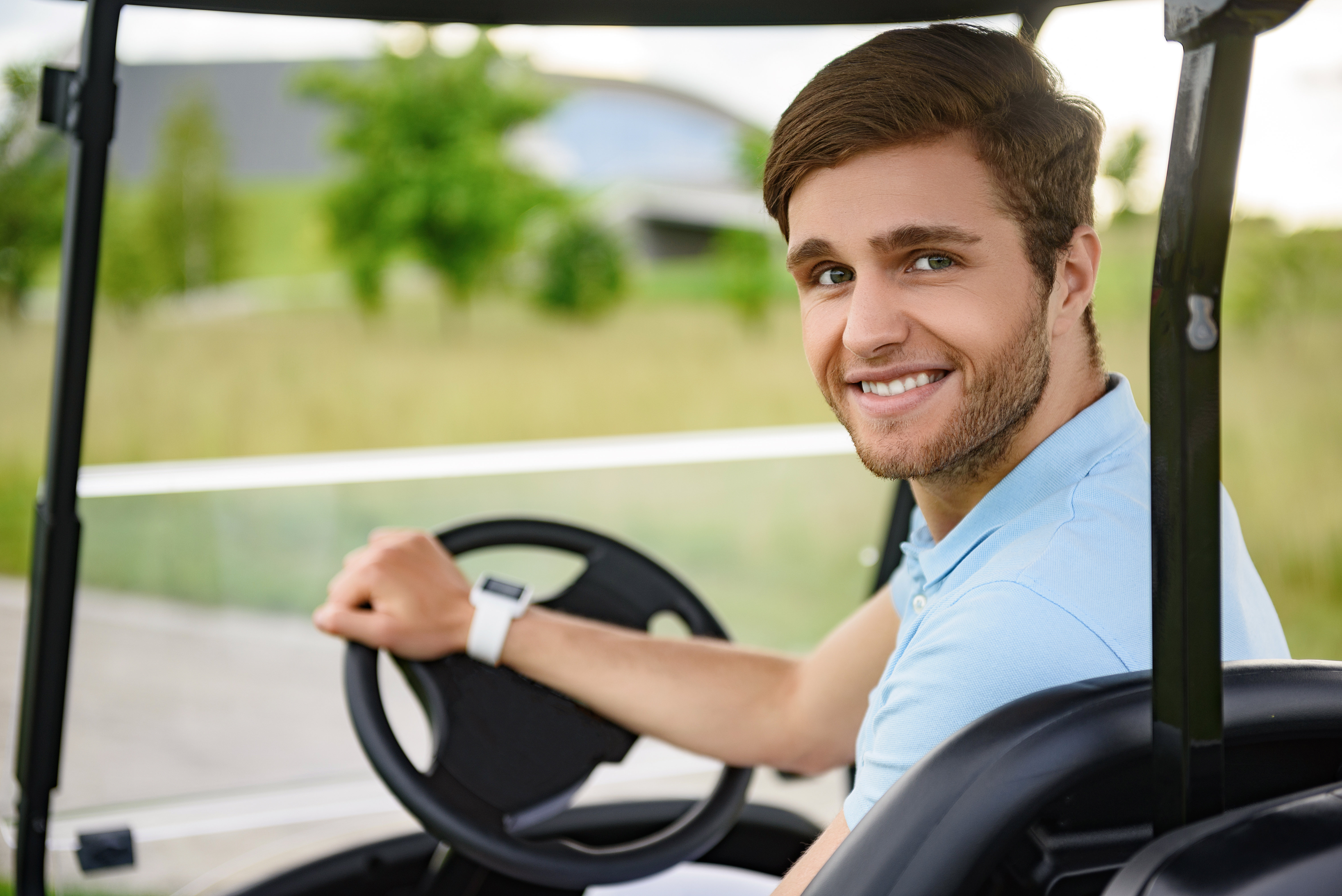 Golf Cart Manuals for Specific Instructions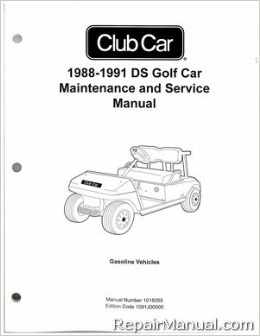 Golf Cart Repair Manuals provide not only good instructions for service, maintenance and repair, they also provide the owner with specific guidelines for keeping you and your golf cart safe.
Everyone who owns a golf cart should at least have an owner's manual.
If you do any of your own maintenance or repair then you should also own a golf cart repair manual for your make and model cart. 
Specific safety instructions are provided based on your year, make and model golf cart.

Maintaining Electric Golf Cart Batteries Safely
Golf cart maintenance is important for your golf cart to run optimally, but there are some precautions that are necessary to keep you safe.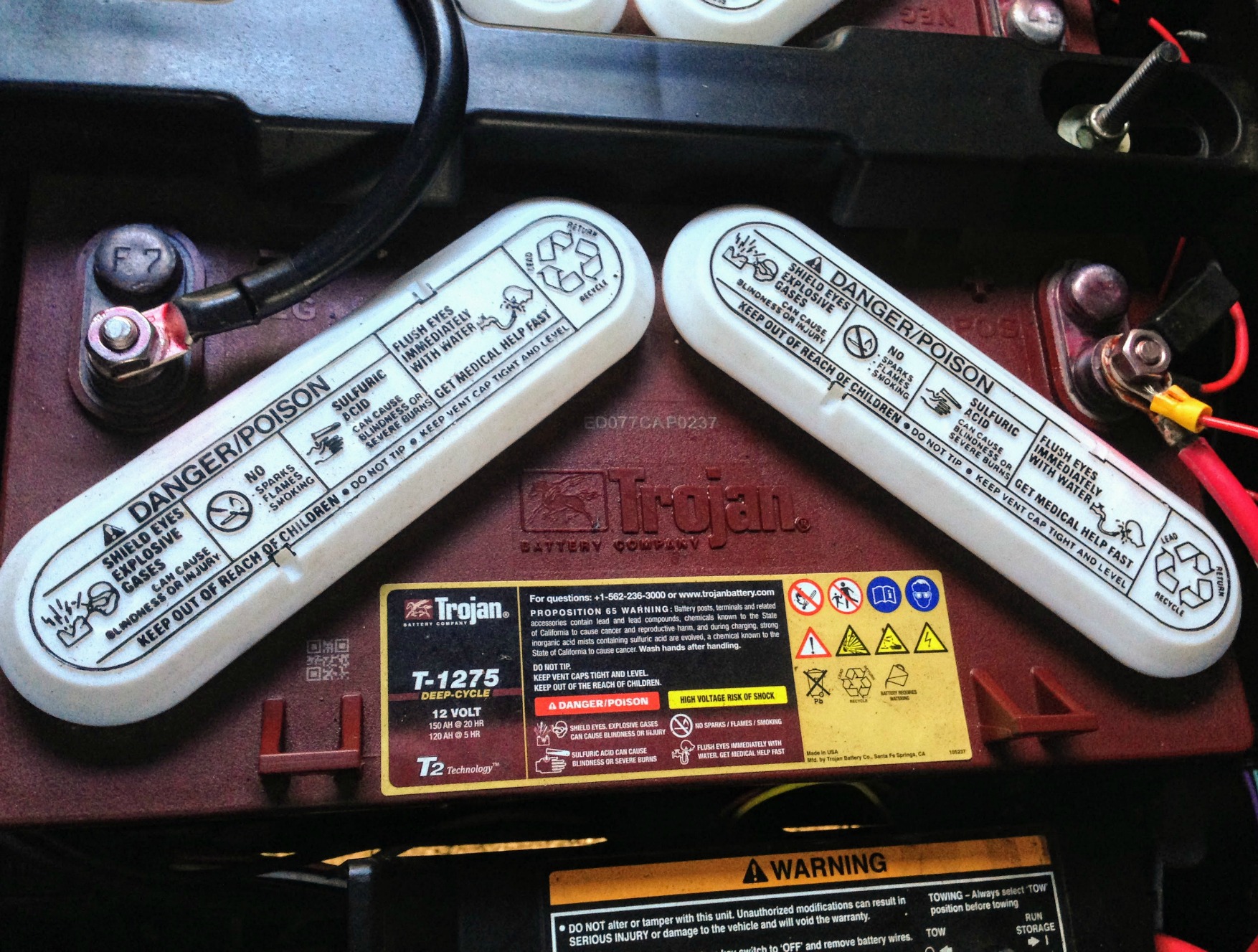 Working around golf carts requires some knowledge about electrical systems, sulfuric acid and hydrogen gases - all of which can cause some serious damage. Severe injuries can occur when safety precautions are not taken. Follow your golf cart manufacturers recommendations before starting any work on your golf cart.

For golf carts that have a "Tow" selection, remember, "Put it in Tow and the cart won't go."
Wear Protective Gear

Did you know that the fluid in the battery cells contain sulfuric acid? It will and can burn your skin or eyes. If you get any of the battery's fluid on your skin or in eyes flush immediately with water and seek medical attention.

√ Golf Cart Batteries Contain Sulfuric Acid
The electrolyte is dangerous and poisonous. It can cause severe burns to your skin and destroy your clothes and any surface, including your golf cart body.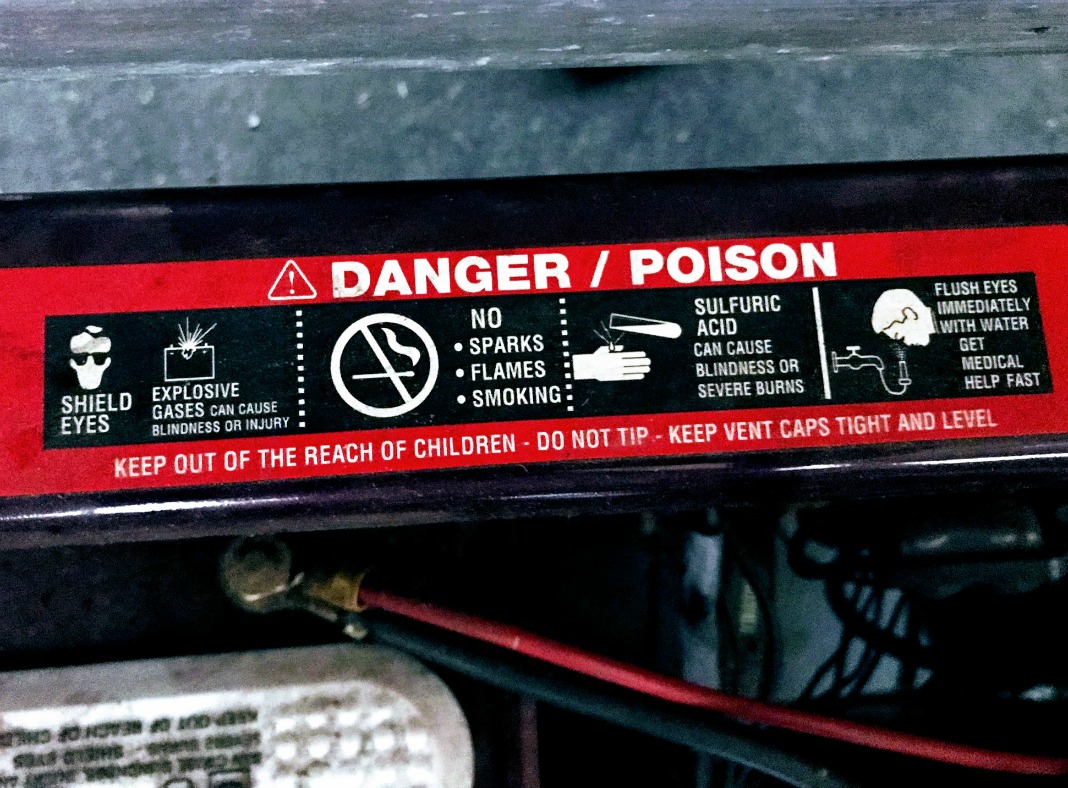 Do not let it touch your skin, eyes or clothing. Wear protective eye glasses, gloves, and protective clothing.
√ Golf Cart Batteries Produce Explosive Gases
Explosive hydrogen gas is produced when batteries are being charged. Only charge batteries in well ventilated areas. Do not use any flame, cigarettes in the area. Keep sparks away. Ventilate when charging your golf cart or if you are using it in an enclosed place.Never smoke.
√ Keep wrenches, jewelry and other metal objects off the battery terminals. An arc can happen which will cause the battery to explode.Take off all jewelry including watches. Wear gloves and use insulated tools.
√ Never Smoke Around Lead Acid Batteries
Hydrogen and oxygen gases are produced when charging lead acid batteries. These gases can be ignited by any spark or flame and cause a battery explosion.
Safely Charge Electric Golf Carts
One of the most common causes of home fires in Peachtree City, a golf cart community is golf cart chargers and improperly maintained batteries. The chargers get warm and sometimes very hot and "dry" batteries coupled with corrosion are a fire hazard.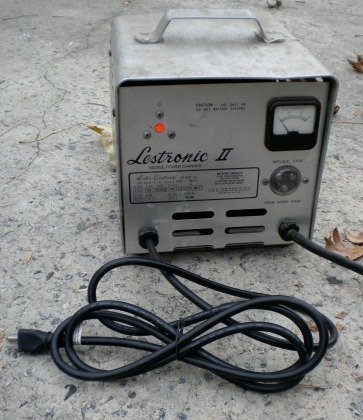 1. Do not place any rags, papers or boxes on or near the chargers.
As golf cart chargers age the DC connection can get old and frayed especially when they are used almost daily. This can create a safety hazard and the cord needs to be replaced.
We put a new cord on our older Club Car charger for about $100 at a local golf cart dealer shop.
2. Do not leave for vacation with your golf cart plugged into the charger.
Always unplug the charger from the outlet.  Although most new "smart" battery chargers turn off when the batteries are fully charged, if a safety mechanism malfunctions the battery will overcharge and can catch fire.  This recently happened to a golf cart in Lakeland, Florida.  The golf cart caught on fire and so did the house. "We would like to recommend if the device is nearly completely charged or it is charged, disconnect it," said Janel Vasallo, spokeswoman for Lakeland Fire Rescue.
3. Charge your batteries in a well ventilated area
Keep your garage door open while charging. Golf cart batteries, especially older ones, emit hydrogen, an odorless, colorless gas that is highly flammable.


Never charge with an extension cord.

4. Match the correct battery charger with the lead acid batteries
Battery chargers are not universal. Check the battery manufacturers recommendations on properly charging their batteries.

Practice golf cart safety while operating, charging and performing any maintenance or repairs to protect you and your home.
5.  Keep Your Batteries Watered
Many new golf cart owners are unaware of the need to monitor the water/electrolyte levels of their lead acid batteries. When batteries become dry they can explode.  Check out these watering instructions here:
Watering Your Golf Cart Batteries
6.  Remove Battery Terminal Corrosion
Tom Tomlinson, owner of Easygolfcart.com's store in Rocklin, states, "Golf cart fires almost always start in the battery compartment and are usually due to improper maintenance."  Corrosion creates air gaps between battery terminals and their connecting wires. Tomlinson states that "Sparks can fly across those air gaps, much like an arc welder. It doesn't take long for heat to melt that post on top of the battery."  Find out how to properly remove corrosion from your battery terminals: 
Golf Cart Safety for Drivers

Golf cart accidents can happen quickly and can cause serious injury and even death to occupants.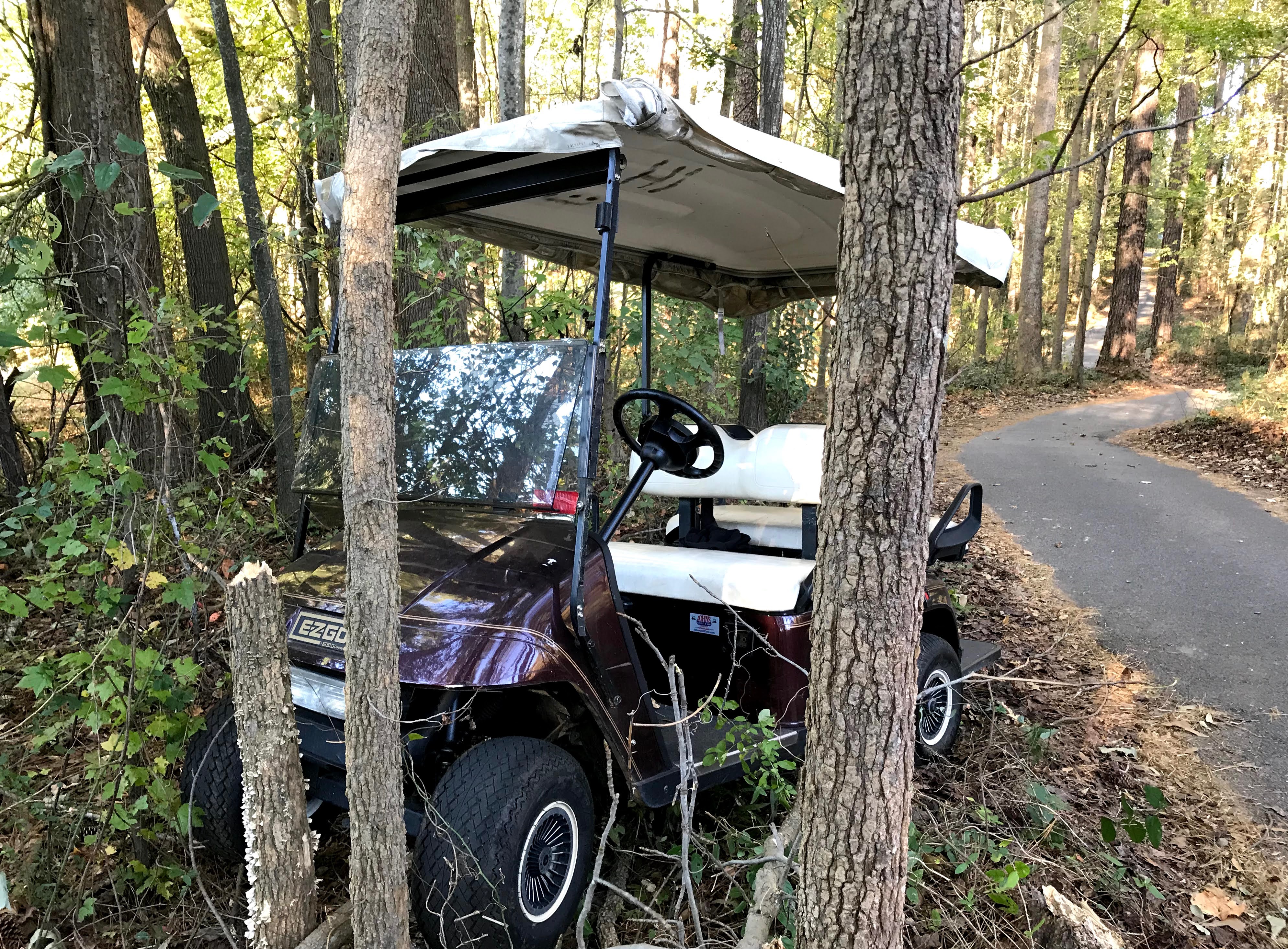 From broken bones to traumatic brain injuries, driving a golf cart safely needs to be taken seriously.  What causes golf cart accidents?
1.  Driving too fast
2.  Making quick turns

3.  Distracted driving
Install golf cart seat belts to protect you and your passengers.  Here is a report of a recent fatality ...
16-year-old girl was behind wheel of golf cart that killed 12-year-old boy, DPS says
Golf Cart Safety Reminders
No one should ever sit on the driver's lap while driving a golf cart.
No standing on a golf cart while it is in motion
Keep hands and feet inside the cart while in motion
No texting or cell phone use while driving
Slow down when approaching curves, intersections and other carts or pedestrians.
Golf cart safety needs to be taken seriously for the protection of the driver, passengers and other golf cart users. 
Go from Golf Cart Safety to Golf Cart Battery Maintenance

Go from Golf Cart Safety to Golf Carts Etc. Home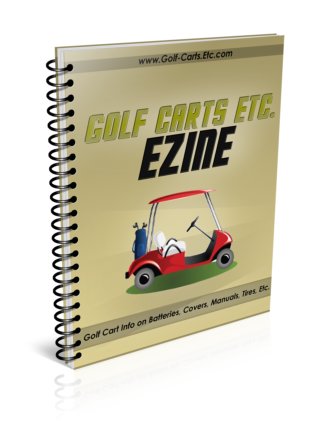 If you are interested in the free Golf Carts Etc. Newsletter you will find information and updates on:
√ Golf Cart Accessories and Products
√ Golf Cart Repair FAQ
√ Golf Cart and Battery Maintenance
√ Electric Golf Cart Reviews
√ Golf Cart Parts
√ Golf Cart Tires
.... and more. Your e-mail information will never be shared with anyone else. Simply sign up here: