Custom Golf Cart Accessories
Customize Your Golf Cart One Accessory at a Time
Custom golf cart accessories can provide protection to your golf cart body, personalize the look of your cart or offer a more comfortable ride.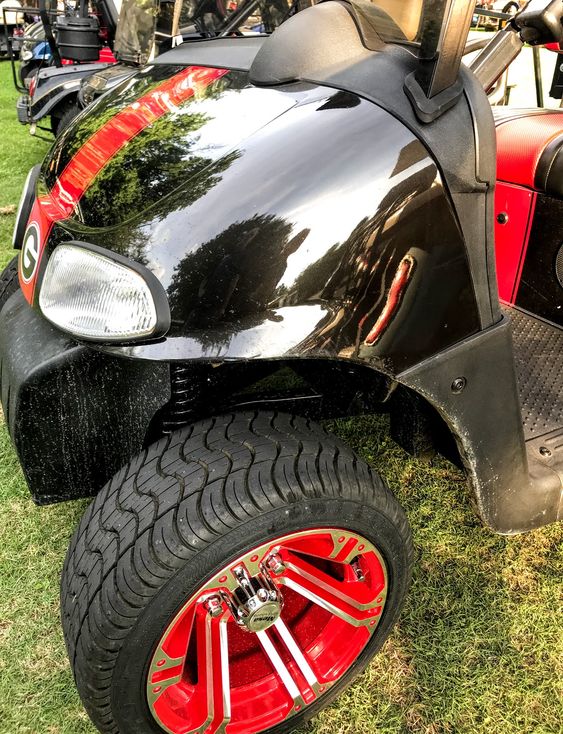 You can choose custom golf cart accessories for a color coordinated look like this one from custom colored wheels, to custom seat covers and custom bodies with striped decals.

Add your custom golf cart accessories one at a time for an affordable way to upgrade your cart but with a plan in mind for your final look and feel.

---
Some links in the following sections are eBay or Amazon affiliate links, which means that if you purchase a product through them I receive a small commission. There is no extra cost to you. Find more details on this page.
---
<b><a href="https://www.golf-carts-etc.com/electric-golf-cart-batteries-2.html">Golf Cart Battery Watering Tips</a></b><br><br>
Custom Golf Cart Wheels
Custom golf cart wheels can turn an ordinary golf cart into a one of a kind cart. They come in a wide variety of not only finishes but colors too - like red, blue or white. The size of your golf cart tire will determine the size of your golf cart wheel.
For a truly custom look to your cart invest in a larger tire and wheel than the standard 8".  Start by determining what size tire and wheel you want for your cart and if your cart can accommodate that size without a lift kit.  A non-lifted golf cart can use an 18.5" tall tire, and some golf cart models can take a taller tire.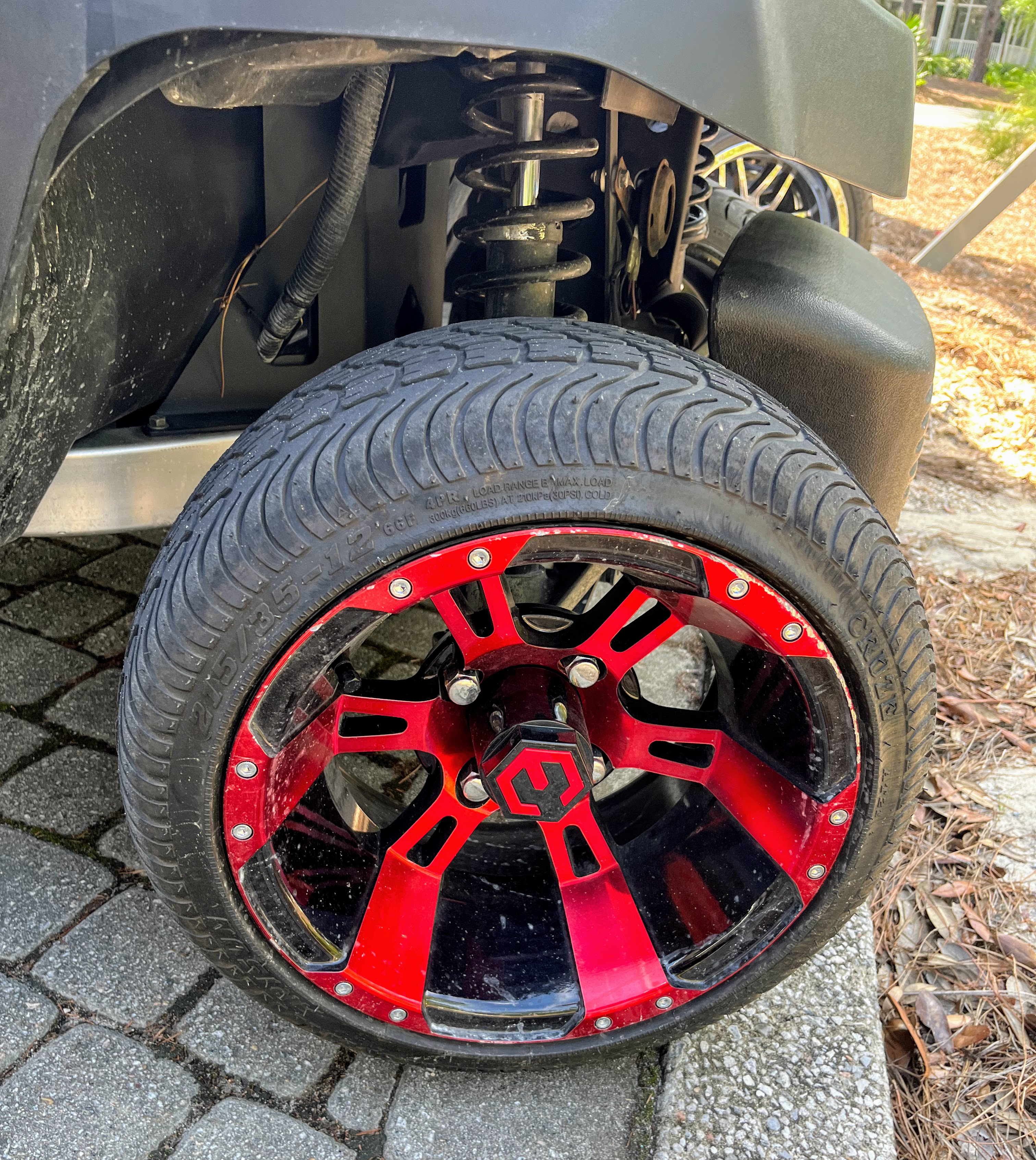 Wheel sizes vary from 8" to 14" with 8" being the standard non-custom size.  There is a large variety of finishes and designs from black mat, to chrome to now almost any color you want. 
Check out some pictures and ideas here:

Custom Golf Cart Seats and Seat Covers
Another idea for customizing your cart is to cover your old golf cart seats with a new custom color design.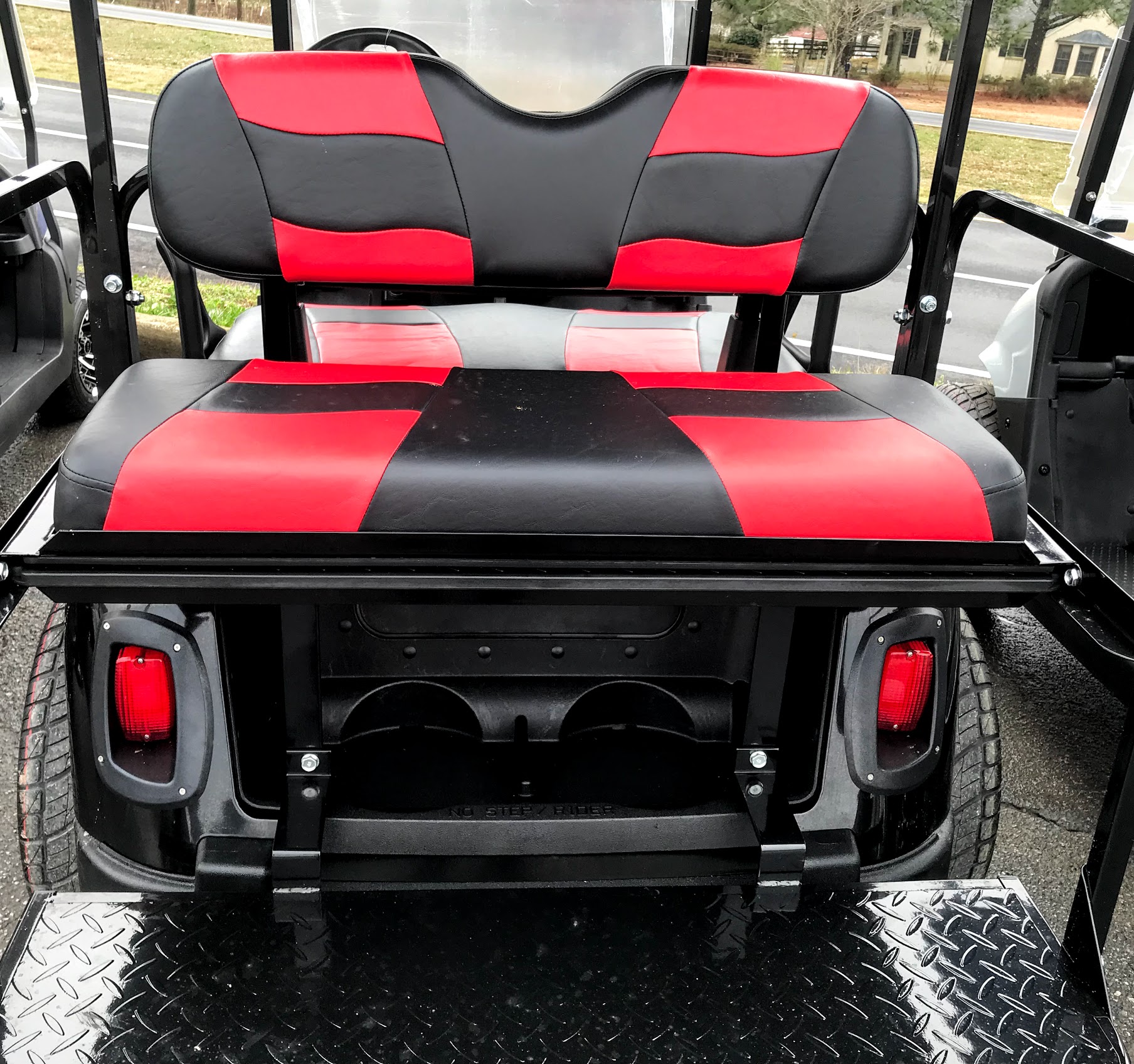 Custom seat covers offer the option of hundreds of color combinations.  The marine grade vinyl simply staples over your existing seat cover.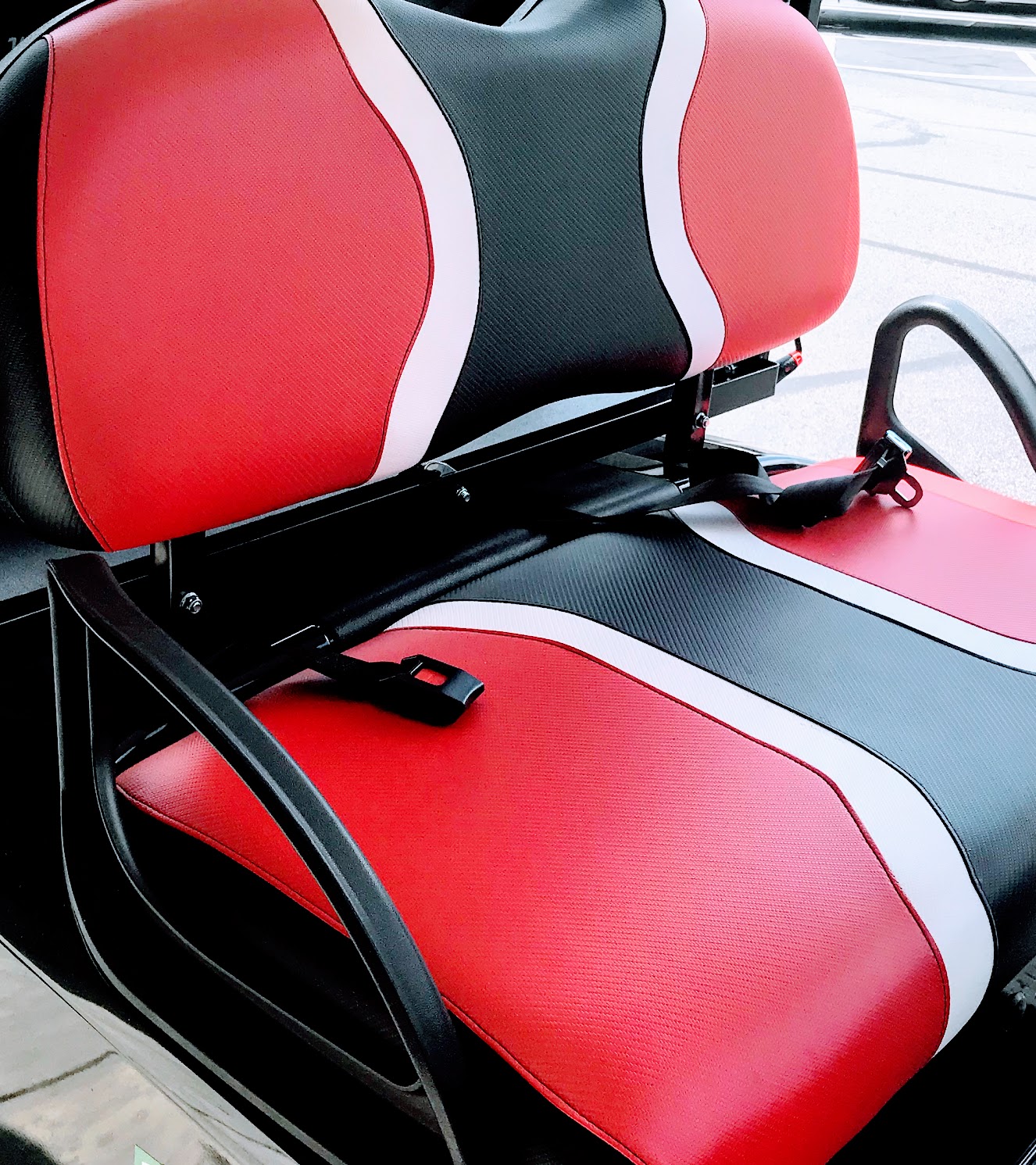 Request a color sample first before committing to your selection to be sure it coordinates with your golf cart body color.
Custom Golf Cart Seat Covers
Custom Golf Cart Accessories for Adding Style
See what a difference a custom golf cart steering wheel can make?

With a more comfortable grip and a pop of color this custom golf cart accessory is an easy DIY project.  Choose from brushed aluminum, stainless steel and colored steering wheels like red, blue, yellow, orange, or green.
Custom Golf Cart Steering Wheels
Custom Golf Cart Accessories for Your Floor
Don't forget about your golf cart floor - from shiny aluminum diamond plate to rugged rubber mats, this accessory will make your cart pop.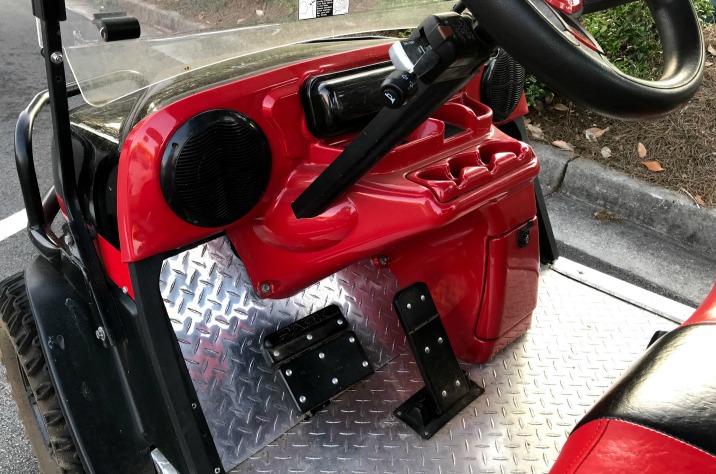 Many of them are pre-cut when you purchase one that is specific to your golf cart make, model and year, making for an easy install and for some, easy to remove to hose off and clean.

Custom Golf Cart Floor Mats
Customize with Diamond Plate
Powder coated black or polished aluminum are your two options for this custom golf cart accessory.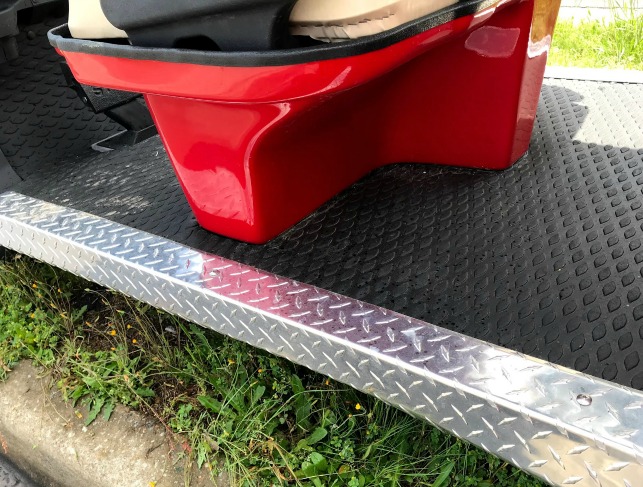 Diamond plate is not limited to just polished aluminum - black is a popular option as well.

Know your golf cart make and model to get the correct fit for a no cutting easy to install upgrade.

Customized Golf Cart with Rocker Panels
Golf cart diamond plate can be used on the front shock panel, pedals, kick plates and more ....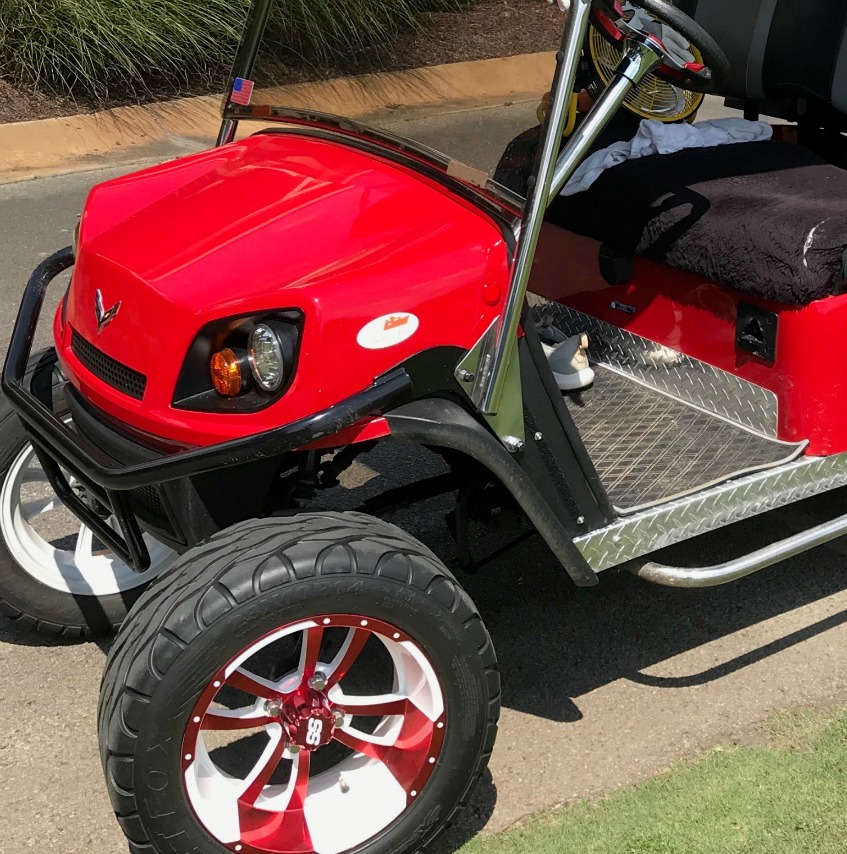 Golf Cart Diamond Plate Accessories
Custom Lifted Golf Carts
Want a rugged look for your cart and add extra clearance? Consider adding a lift kit to accommodate larger custom wheels and tires.

There are different sizes of lift kits. They range from 3" to 8." The size of the lift kit will be determined by the size of the off road tire you want to use.

The most popular size golf cart lift kit is the 3" lift.  They work great for those who just want some extra height and some bigger tires.
Custom Golf Cart Accessories for Adding "Flare"
Golf cart fender flares offer function and personality.  They protect your body and finish from thrown up sand, gravel, dirt and debris while giving it that custom finished look.

Made of a durable molded plastic, fender flares come in a set of 4 to include the front and the back. This is an inexpensive big bang for the buck custom golf cart accessory that's easy for anyone to install.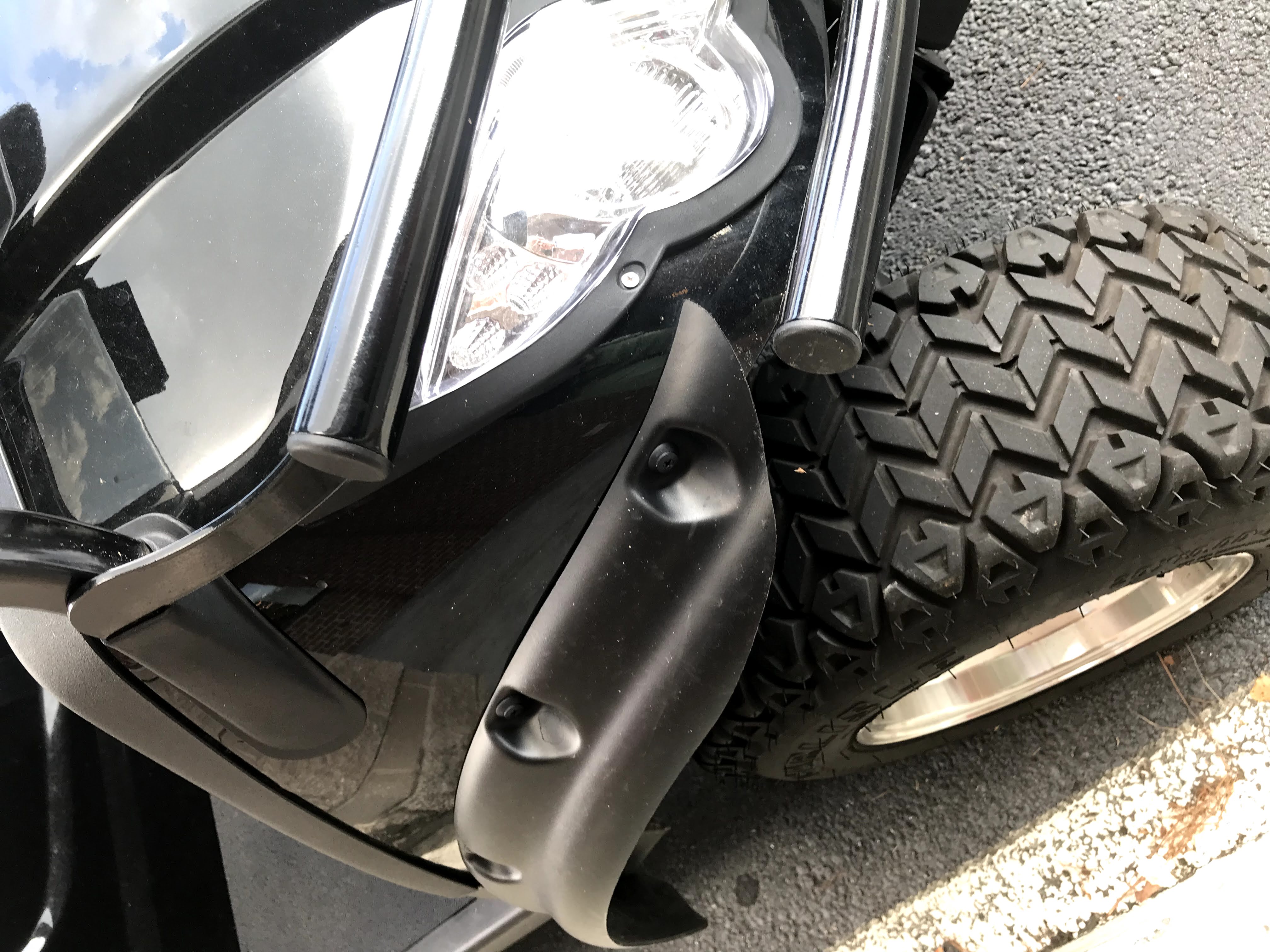 Protect your cart from thrown up debris, pebbles, sand and mud ....

Custom Golf Cart Accessories that Offer Protection
A custom golf cart body starts in the front with a brush guard or grille.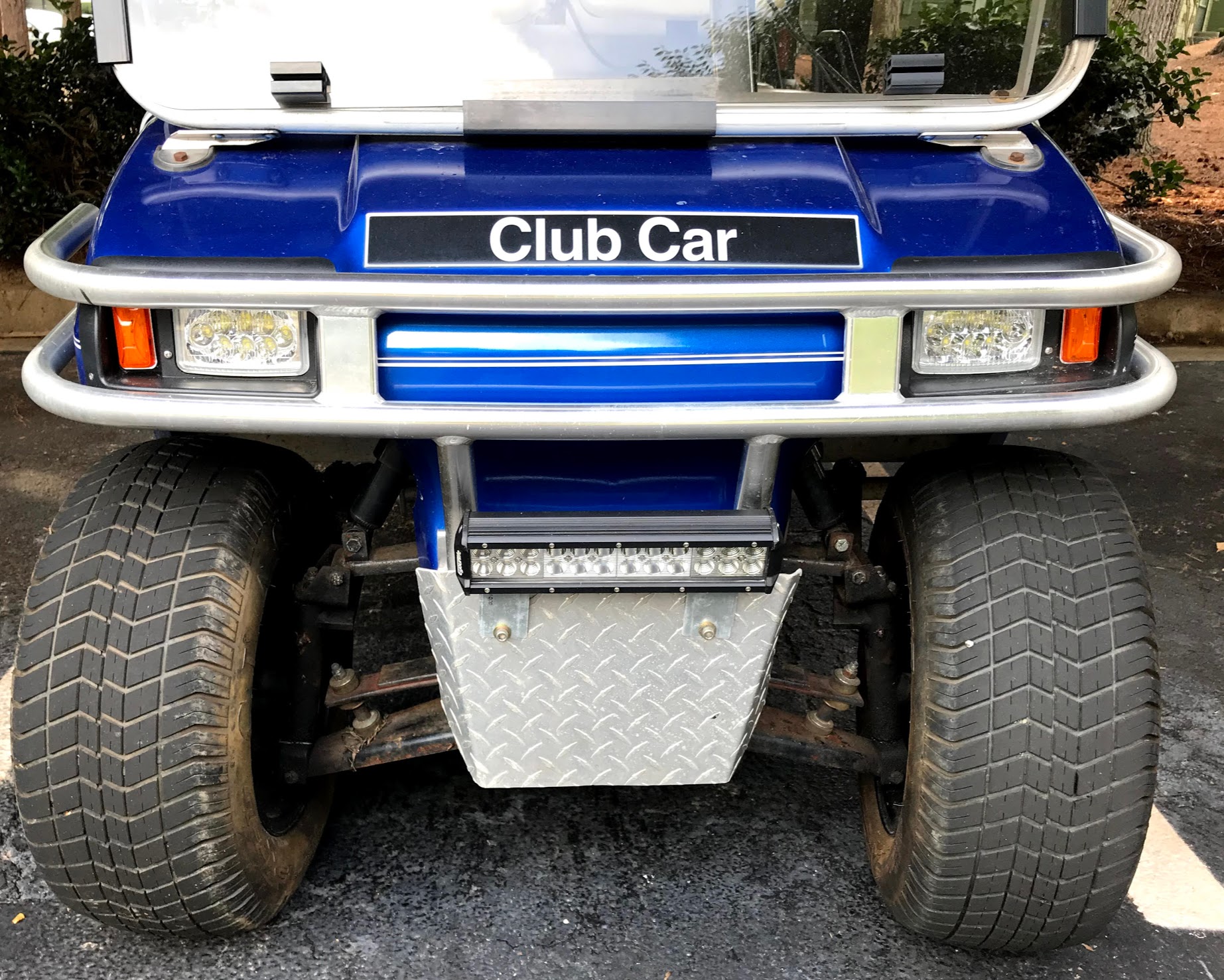 This accessory comes in black powder coated mat or gloss or stainless steel.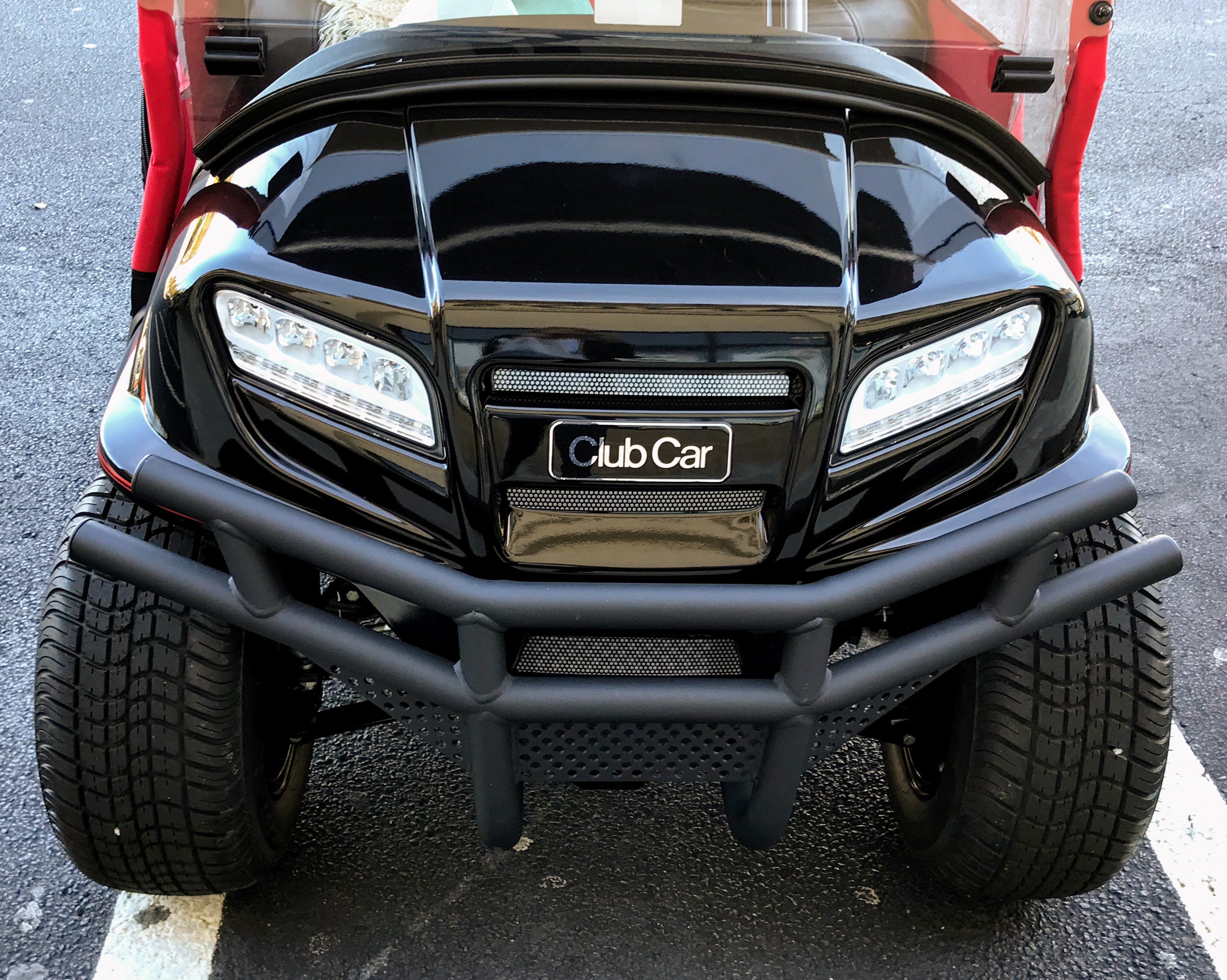 An easy do it yourself project to give your cart an extra rugged sturdy look, select a golf cart brush guard specific to your make, model and year.
Custom Golf Cart Accessories for Extra Hauling Space
If you are looking for some extra space to carry stuff like golf balls, cell phone, or items from the store, install a golf cart basket.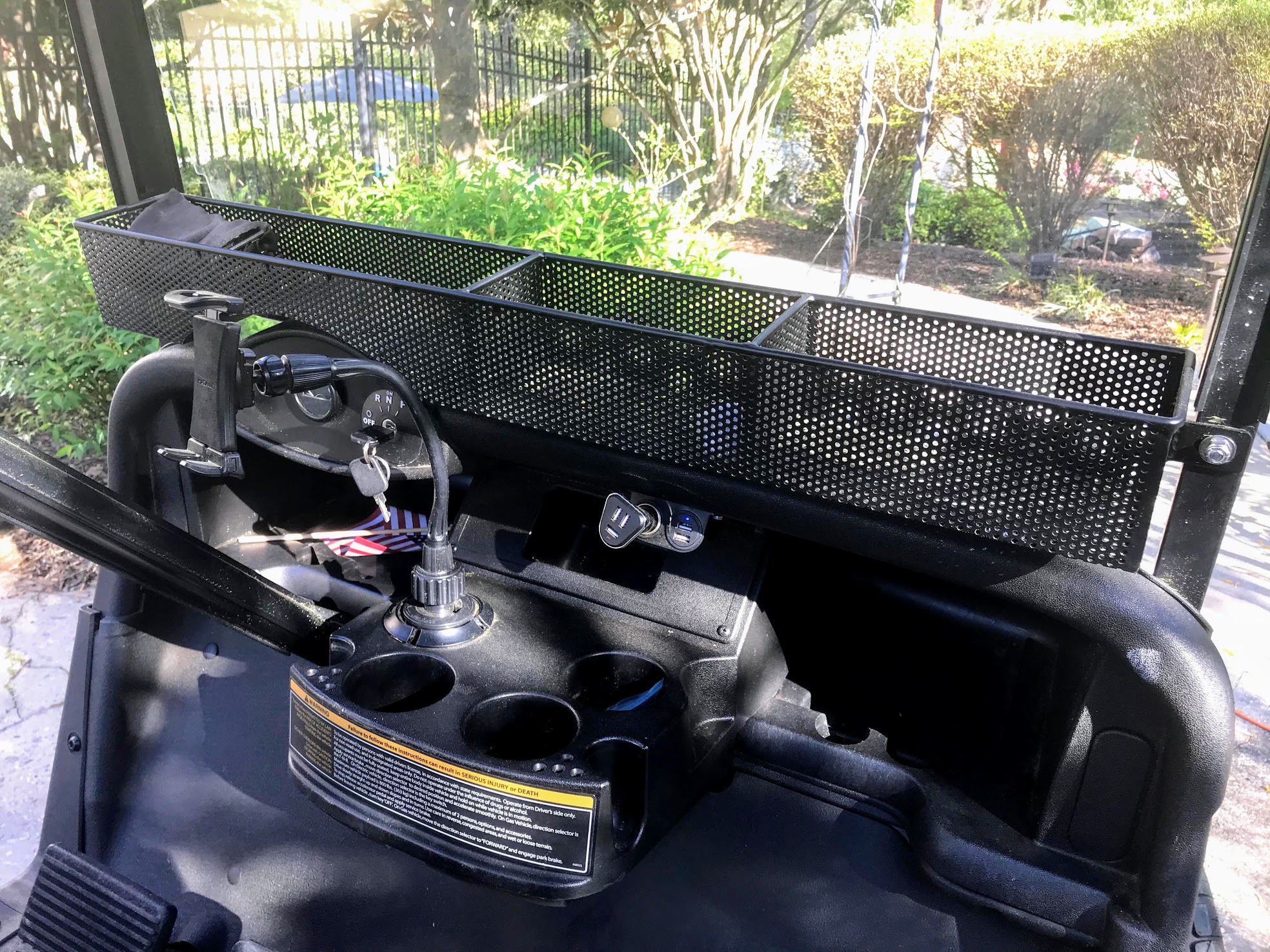 These baskets can go on the interior like this one or be installed on the exterior side of the windshield.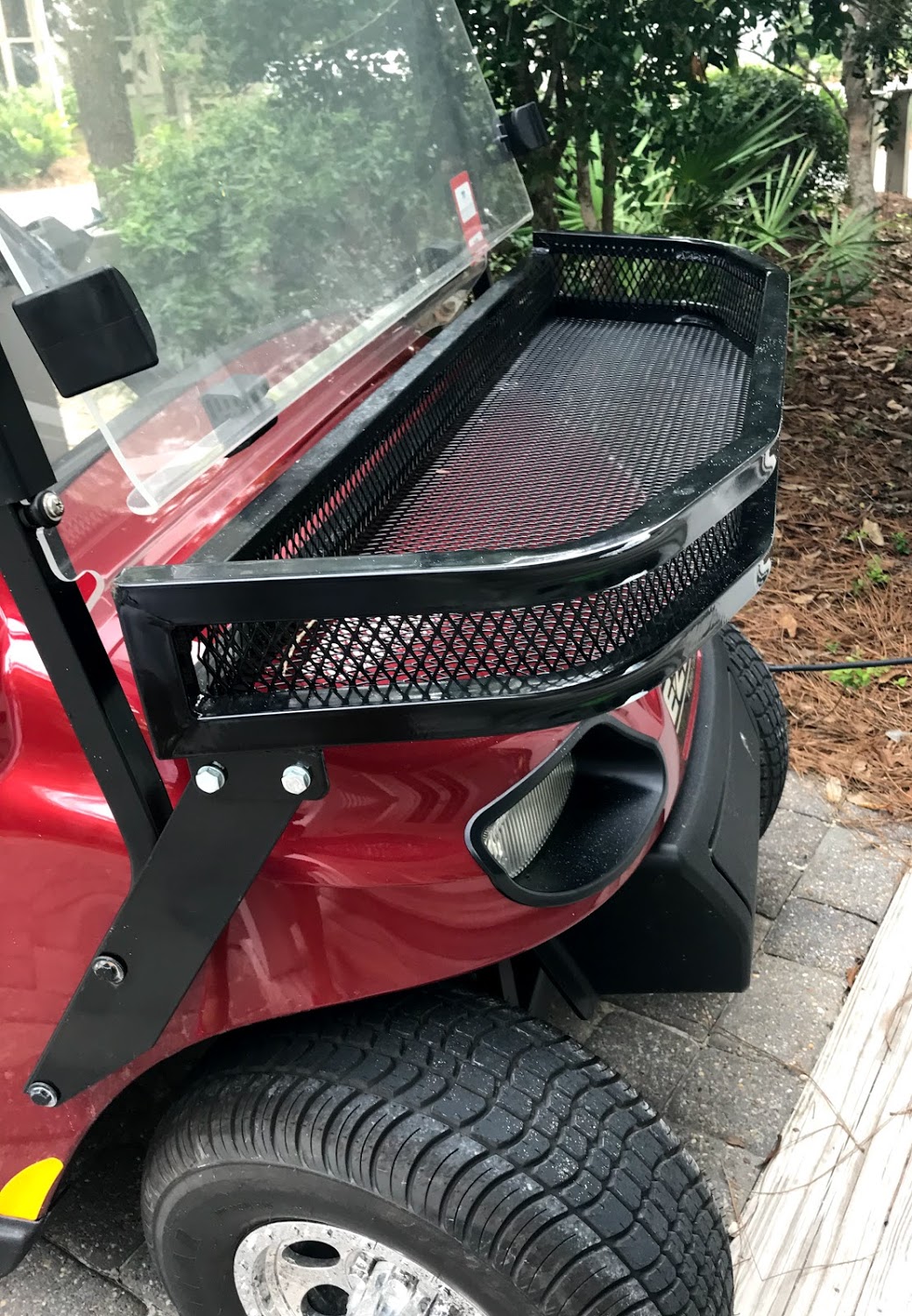 Golf Cart Baskets
Start adding custom golf cart accessories to give you a better ride, a unique look, and protection for your cart.               
Go Back to Golf Cart Accessories
Return to Golf Carts Etc. Home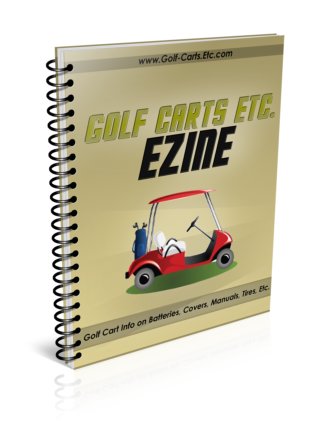 If you are interested in the free Golf Carts Etc. Newsletter you will find information and updates on:
√ Golf Cart Accessories and Products
√ Golf Cart Repair FAQ
√ Golf Cart and Battery Maintenance
√ Electric Golf Cart Reviews
√ Golf Cart Parts
√ Golf Cart Tires
.... and more. Your e-mail information will never be shared with anyone else. Simply sign up here: